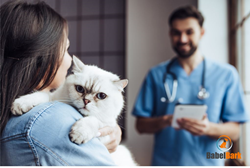 Today, technology has made it so easy for the independent practice to have a true competitive edge against the corporate practice.
NEWTON, Mass. (PRWEB) October 15, 2019
BabelBark, Inc., a pet-related software developer, has announced a partnership with the Independent Veterinary Practice Association (IVPA), an organization of 390 members in 42 states representing the interests and needs of privately owned hospitals in North America, to leverage new marketing tools to help educate pet owners on the benefits of having an independent veterinary practice.
According to new data from the Vetalytic Report as well as the VHMA Monthly study, year over year there is a decline in vaccine usage as well as the continued downturn in the total number of veterinary visits into practices. This data paints an uncertain future for the profession and as pet ownership continues to rise.
"This shift in dynamics is having a significant impact on the independent practices. Each one is trying to find new ways to compete against the corporate practices," says Bruce Truman, vice president of sales and marketing for BabelBark. "Today, technology has made it so easy for the independent practice to have a true competitive edge against the corporate practices."
Truman adds, technology goes beyond implementing a new software, today's advancements allow for a new level of connected care by allowing independent practices to enhance the pet parent experience while also freeing up time in the exam room through the facilitation of virtual medical progress exams.
According to the American Pet Products Association, millennials (ages 18–34) are now the largest pet owning demographic and have the highest propensity for technology, leading most experts to recognize having a digital connection between a pet owner and a veterinarian can and will impact a pet's overall health. BabelBark brings both remote patient monitoring and real-time health monitoring that can set, manage and monitor a pet's activity goals, both providing immediate and critical information on a pet's health.
"Having an organization like BabelBark come forward with true, easy to implement solutions as well as invest in creating a video to help drive local pet owner business to IVPA members is absolutely incredible," says Dr. Bonnie Bragdon, cofounder and president of IVPA.
To learn more, visit BabelBark.
About BabelBark, Inc.
BabelBark is a unique digital platform dedicated to easily connecting families to the many facets of their pet's life. The integrated app and software system help pet parents better understand their dog or cat to provide them the happiest and healthiest life possible, while also helping pet businesses and veterinarians communicate directly to customers and clients. It means BabelBark can help connect the love for each pet while revolutionizing veterinary care and pet business models, giving pet parents a key tool, they want — a digital and personal healthcare team. For more information, visit BabelBark, BizBark and BabelVet or email at info@babelbark.com.
About IVPA
IVPA stands for the Independent Veterinary Practitioners Association. IVPA is a trade association that represents the special interests and needs of independent veterinary practitioners. The association aims to promote the value of independent practitioners to animal owners, advocate within the veterinary profession and act as a resource to our members.
###