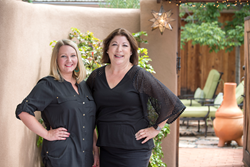 Fran Maier's grasp of the gig and sharing economies as well as her success in building national brands is a big advantage for Babierge.
Santa Fe, NM (PRWEB) June 13, 2016
Babierge, Inc., a rapidly growing multi-state online baby equipment rental platform, has appointed Fran Maier as Chief Executive Officer. She succeeds Kerri Couillard, Babierge's Founder, who will continue to serve as the Company's Chief Technology Officer.
Baby Gear Rental Platform Gears Up for Growth
Babierge (baby + concierge) aims to become a trusted national brand for traveling parents and grandparents. It currently operates in nine markets—Santa Fe, Albuquerque and Rio Rancho, New Mexico; San Francisco and Los Angeles, California; San Antonio, Texas; Memphis, Tennessee; Chicago, Illinois, and Minneapolis/St. Paul, Minnesota. It will roll out dozens of additional markets by the end of the year including three more this month in Kalamazoo, Michigan; Phoenix, Arizona; and Burlingame, California. The company's Trusted Partners, independent representatives of Babierge, deliver, set up and pick up the items families need when traveling to create a hassle-free, positive experience for families and hosts.
Ms. Maier and Ms. Couillard met at the well-regarded Women's Startup Lab (http://womenstartuplab.com/) earlier this year, when Kerri was selected for a coveted slot in the February 2016 program. Ms. Maier has served as an adviser to Women's Startup Lab since its inception in 2013.
"Babierge makes traveling with kids a better experience and at the same time provides extra income opportunities for our on-the-ground Trusted Partners," said Ms. Maier. "Kerri has done an amazing job demonstrating the high demand among parents and grandparents for baby equipment rental, from car seats to full-size cribs to highchairs. We are in the process of scaling the success in Santa Fe to other markets."
About Fran Maier
Fran Maier is best known for her 10+ years leading TRUSTe, the leading privacy trustmark and solutions provider, her role as co-founder and first general manager of Match.com, the earliest and most successful online dating platform. She has been active as an advisor to start-ups, many led by female entrepreneurs, as well as being an angel investor. Recognition for her contributions include:

20th Annual Jerry I. Porras Latino Leadership award recipient, 2016
100 Most Influential Women in Tech, Hot Topics, 2015
150 Most Influential Women in the Bay Area, San Francisco Business Times, 2011
She holds an A.B. and M.B.A. from Stanford University.
Ms. Maier is also an Airbnb "Superhost" in both San Francisco and Santa Fe and has first-hand knowledge of the need for baby gear for traveling families, as well as the importance of personalized service.
Ms. Couillard said, "Having Fran on board adds an important dimension to Babierge as we scale the business to a national trusted brand. Her grasp of the gig and sharing economies as well as her success in building national brands is a big advantage for Babierge and our Trusted Partners."
Ms. Maier, whose maiden name was Allocca, grew up in Santa Fe. She will continue to live and work out of San Francisco, however, she will make frequent trips to New Mexico to support her new role as Babierge CEO, as well as other investments she has in the state.
"New Mexico occupies a special spot in my heart," Ms. Maier said. "I have been watching the growth of entrepreneurial activity in Santa Fe, Albuquerque and other parts of the state and am pleased to be working with Kerri in a high-potential New Mexico company."
About Babierge
Babierge (baby + concierge) Inc, was incorporated in 2016, and is building on Founder Kerri Couillard's vision for a more positive travel experience for parents of small children and their hosts. Ms. Couillard began renting equipment in the Santa Fe, NM area in 2011. Ms. Couillard has received recognition from numerous competitive startup programs, including the Hautepreneur's HauteHopes accelerator program in Albuquerque (http://www.hautepreneurs.com) and participation in the Women's Startup Lab in Silicon Valley. Operating in eight states as of June, 2016, Babierge is developing a national trusted brand and platform, leveraging gig and shared economy models, in a market that has been fragmented to date. http://www.Babierge.com