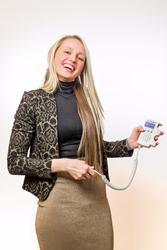 We didn't start this as a business, we didn't care about making money. All we wanted was to get this amazing product to women who needed it"
LAS VEGAS (PRWEB) October 17, 2017
Baby Doppler is excited to announce the launch of additional products aimed at improving mom and baby health at the 2017 ABC Kids Expo in Las Vegas, NV. Items such as smart baby scales, baby thermometers and breast pumps will be added to the online store, joining their already popular fetal dopplers.
Baby Doppler first started when founder Maria Gorobets was pregnant for the first time and used a fetal doppler to detect an irregularity in her fetus's heartbeat. This prompted her to seek medical attention; a decision that may have saved her baby.
The device was previously only used by medical professionals but after discovering how helpful the product can be for expecting mothers, Gorobets and her husband Mithu Kuna started selling dopplers on BabyDoppler.com.
"We didn't start this as a business, we didn't care about making money. All we wanted was to get this amazing product to women who needed it," Gorobets says.
The handheld device is similar to an ultrasound and can be used at home after the 12th week of pregnancy. Gel is spread over the mother's belly and the probe is slowly glided across until a heartbeat is heard in the earphones or speaker.
With Gorobet's background in marketing and Kuna's background in product development and e-commerce, the business grew quickly and is now making healthcare more accessible for thousands of women across the U.S. and Canada.
Retailers such as Walmart, Amazon, Sears, and Best Buy also sell Baby Doppler products online. The company even received an order from Warner Bros. Entertainment Inc. in 2016 to feature the product on the television show The Big Bang Theory.
While the product cannot be used for diagnosis and cannot replace a medical professional, hearing a heartbeat can ease parents' anxieties and alert them of possible problems.
Baby Doppler is passionate about educating pregnant women about the correct usage of fetal dopplers and is committed to helping mothers through their journey on their blog.
For more information about Baby Doppler, visit BabyDoppler.com.
About Baby Doppler
Listening to your baby's heartbeat at home is a rewarding and reassuring experience. Baby Doppler aims to make that experience accessible and affordable by providing expecting mothers with in-home, pocket-sized fetal dopplers as well as other pregnancy and baby products. Baby Doppler offers compassionate customer service and free shipping to mothers within the U.S. and Canada. Orders can be placed on BabyDoppler.com.