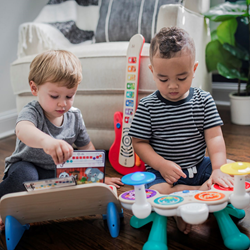 ATLANTA (PRWEB) November 18, 2021
Right in time for the holiday season, Baby Einstein™ today announced the launch of its Together in Tune™ Collection, an all-new musical experience for families that combines traditional wooden toys with cutting-edge technology. The toys are now available on shelves at buybuy BABY® stores nationwide and online, just as the holiday shopping rush commences. To help spread the news and the cheerful spirit of the season, the Baby Einstein™ brand will also launch a social media campaign aimed at getting families to spend more time together and share content as they play with the collection.
The Together in Tune™ Collection consists of three products: the Together in Tune Piano™ Connected Magic Touch™ Piano, the Together in Tune Guitar™ Connected Magic Touch™ Guitar, and the Together in Tune Drums™ Connected Magic Touch™ Drum Set. The brand also offers the Together in Tune Duo™ Connected Magic Touch™ Instrument Set, which includes both the piano and guitar as a bundle. These instruments can be played solo or can connect via radio waves in "Band Mode". When connected, the magic of the collection comes to life creating a perfect opportunity for babies to play together with mom and dad, their siblings, or their besties. The connected notes played by baby are harmonized through each of the instruments, to match the beat and create a brand-new melody. Watch as your little one turns into a master musician during playtime, or as your family forms its very own band!
This collection was designed utilizing The Einstein Way™, the Baby Einstein™ brand's science-backed learning philosophy developed to ignite curiosity in children and families. The brand is excited to introduce these new products, in hopes to help inspire curiosity, capture children's attention, promote hand-eye coordination and stimulate the senses.
The Baby Einstein™ brand has also partnered with popular parenting influencers @thefoxsaystwins, @kamry.blessed, @tayandthetwins and @aria_and_luke, for a holiday TikTok campaign that will run from late-November to mid-December, highlighting the Together in Tune™ products. The campaign will encourage consumers to engage on social by sharing videos accompanied by the hashtags #BabyEinstein, #FamJam, and #TogetherInTune. The Baby Einstein™ Instagram (@babyeinstein), Facebook (@babyeinstein) and TikTok (@babyeinsteinofficial) channels have also been building up excitement around the collection through teasers, interactive Instagram stories, employee engagement initiatives and a consumer giveaway. Through these various activations, the brand anticipates that this campaign will reach a total of about 1MM organic followers.
"At Baby Einstein, our work is centered around helping parents to spark creativity and cultivate curiosity in their children," said Meryl Macune, SVP of Global Marketing for Kids2, parent company of Baby Einstein. "The Together in Tune Collection provides an interactive solution for babies and children to discover new sounds, create their own melodies, and delight in the joy of music."
As a part of the partnership, buybuy BABY® has created a landing page for the collection and will feature the drum set and bundle pack on retail endcaps. Kids2 has also created an online landing page that is easily accessible from a QR code on each item's packaging, to establish collection awareness and offer more information on the products and the connected play feature. Additional US retailers that will carry Together in Tune™ items are Amazon, Target.com and Walmart.com.
More information on Baby Einstein™ is available at http://www.babyeinstein.com, and for more information on Kids2, please visit http://www.kids2.com.
About The Baby Einstein™ Brand
Born from the belief that the future belongs to the curious, Baby Einstein helps parents cultivate curiosity – within their children and themselves – through experiences of shared discovery and creativity. Why? Because curiosity motivates us to learn and adapt. It compels us to be open to possibility and confident in our skills. Curiosity is essential for succeeding in our ever-changing world and creating a better one.
Baby Einstein® and the Boy's Head Logo are trademarks of Baby Einstein, LLC. EINSTEIN® is a trademark of The Hebrew University of Jerusalem.
About Kids2 Group
Kids2 Group is a purpose-driven family of companies focused on helping new parents solve some of their biggest problems. This is all made possible thanks to Kids2 Group's unique community of passionate people and forward-thinking companies that create connectivity and comradery in pursuit of tiny wins for parents and children everywhere. Comprised of world-renowned brands Baby Einstein, Ingenuity and Bright Starts, as well as a privately owned media company, a venture capital firm to invest in like-minded startups, a vertically-integrated manufacturing facility, and various joint-venture partnerships—Kids2 Group sets out to create holistic solutions that create more tiny wins and bright futures for all families. 
Kids2 Group's global reach spans 90 countries and more than 700 million consumer touchpoints, and the Kids2 Group family is growing. Thanks to new ideation and innovation, along with new investments in innovative spaces, Kids2 Group is on a path to make each day that much easier for early-stage parents and families everywhere.