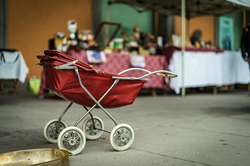 For all of these reasons, it's our pleasure to give Buy Buy Baby our highest recommendation among retailers of Baby Strollers in 2020.
OVERLAND PARK, Kan. (PRWEB) September 22, 2020
TopConsumerReviews.com recently gave their best-in-class 5 star rating to Buy Buy Baby, a leading online retailer of Baby Strollers.
While many baby products come and go - think Johnny Jump-Ups, Boppy, Bumbo, and more - it seems that Baby Strollers are always a necessity. Of course, the type of stroller preferred by parents depends on how they plan on using it. An umbrella stroller is the epitome of convenience, lightweight and easy to stow for a flight, but it can't compare with a jogging stroller for rugged terrain and putting on the miles. And, for larger families - or eager parents hoping to have more than one someday! - having a stroller that can accommodate multiples or a toddler and an infant simultaneously might be worth considering early on with the arrival of the first child. Fortunately, no matter what represents the "perfect" stroller, it'll be easy to find online. With just a few clicks, the ideal kid ride can be delivered right to the doorstep, minus the usual hassle of driving from store to store only to be disappointed by the selection and prices.
"If you've got a long list of must-haves for baby and a stroller is on the list, you can't go wrong with shopping at Buy Buy Baby," stated Brian Dolezal of TopConsumerReviews.com, LLC. "Whether you need the most basic 'get from Point A to Point B' style or you're looking for the most tricked-out all-in-one system on the market, you won't find another online retailer with the selection of Buy Buy Baby. The retailer offers a no-hassle Price Match Guarantee, as well as a generous one-year return policy for items in unused condition. That's a great perk for people who like to buy baby gifts well in advance. And, for those not-so-confident shoppers, the site offers many tools to help them understand what kind of stroller might be the best fit, a glossary of often-used baby-related terms, and much more. For all of these reasons, it's our pleasure to give Buy Buy Baby our highest recommendation among retailers of Baby Strollers in 2020."
To find out more about Buy Buy Baby and other online retailers of Baby Strollers, including reviews and comparison rankings, please visit the Baby Strollers section of TopConsumerReviews.com at https://www.topconsumerreviews.com/baby-strollers/.
About Buy Buy Baby
Buy Buy Baby is the one stop shop for all your baby's needs, carrying products such as nursery and children's furniture, car seats, and feeding accessories. Their mission is to ensure that new and expectant parents have everything they need to confidently welcome their baby and navigate the transitions of life as a family. Buy Buy Baby, Inc., based in Union, NJ, is a wholly owned subsidiary of Bed Bath & Beyond and subsidiaries, which is an omnichannel retailer selling a wide assortment of domestics merchandise and home furnishings.
About TopConsumerReviews.com
TopConsumerReviews.com, LLC is a leading provider of reviews and rankings for thousands of consumer products and services. From baby strollers to homeschool supplies and nanny agencies, TopConsumerReviews.com delivers in-depth product evaluations in order to make purchasing decisions easier.