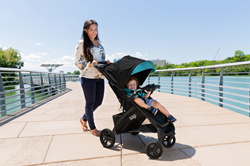 As Baby Trend stays at the forefront of new and innovative solutions that meet the ever-increasing demands of new parents, we take great pride in knowing the products we provide that are going to bring joy, convenience, and safety to every family. - John Riedl
FONTANA, Calif. (PRWEB) October 09, 2019
Leading juvenile product manufacturer, Baby Trend, is excited to announce the launch of Tango™ Travel System. This all-inclusive travel system comes with the lightweight and compact Tango™ Stroller, the Ally™ Infant Car Seat and the Car Seat Base.
Built with the perfect blend of quality, comfort and style, parents and their children can experience the abundance of features the Tango™ Travel System offers. Parent Premiums include a large storage basket with front and rear access, a parent console with cell phone positioner and two extra-deep flex-grip cup holders. Comfort Cabin is completed with an extra-long canopy and visor with built-in UV protection, deluxe fabrics with premium padding. This new Tango™ stroller design also provides easy maneuverability and quick one-hand folding.
"We are very excited about the launch of our Tango™ Travel System," said John Riedl, Vice President of R&D and Marketing at Baby Trend. "As Baby Trend stays at the forefront of new and innovative solutions that meet the ever-increasing demands of new parents, we take great pride in knowing the products we provide that are going to bring joy, convenience, and safety to every family."
The Tango™ Travel System is now available at Target.com, Amazon, BabyTrend.com, and will be available soon at additional retailers. For more product information, please visit https://www.babytrend.com/tango.
About Baby Trend
Baby Trend, a leading brand of juvenile products in North America, is an innovator recognized for several iconic juvenile products such as the Flex-Loc® Infant Car Seat, Snap-N-Go® and Sit N' Stand® Strollers. Throughout the 30-year history of Baby Trend, the company has been at the forefront of safety, introducing simplified solutions for parents around the world. Baby Trend provides safe, feature rich and reliable products at affordable prices.