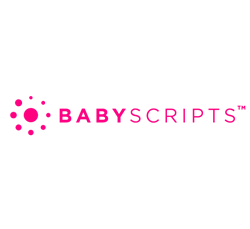 "This funding will help us continue to acquire market share while also allowing us to focus on building even more products for patients in pregnancy," says Babyscripts CEO and Co-founder, Anish Sebastian.
SAN FRANCISCO (PRWEB) January 07, 2019
Babyscripts, Inc., the leading virtual care platform for managing obstetrics, announced today that Philips, the leading international health technology company, has taken a minority position in the company by leading a $6 million round of financing. Additional investors include StartUp Health and NueCura Partners.
Babyscripts has spent the last four years building a clinically-validated, virtual care platform to allow OBGYNs to deliver a new model of prenatal care. Using internet-connected devices for remote monitoring, Babyscripts offers risk-specific experiences to allow providers to manage up to 90% of pregnancies virtually, allowing doctors to detect risk more quickly and automate elements of care.
Babyscripts has leveraged their established success in prenatal care to support expansion into the postpartum space. With the recent acquisition of iBirth, one of the first provider-delivered, co-branded pregnancy apps in the marketplace, Babyscripts now offers the most holistic and engaging technology program to manage pregnancy and postpartum. With this additional funding, Babyscripts shows a commitment to dominate the space with clinically validated provider-prescribed technology for pregnancy and postpartum, now managing more than 150,000 pregnancies across 20 states.
"This funding will help us continue to acquire market share while also allowing us to focus on building even more products for patients in pregnancy," says Babyscripts CEO and Co-founder, Anish Sebastian. "We are excited to partner with a group like Philips — this is a great validation of our vision for obstetrics: a risk based model that we've coined 'precision prenatal care'."
In concert with the investment from Philips, Babyscripts intends to partner with the Mother/Baby unit of Philips Healthcare to build the market's most extensive, clinically-validated virtual care obstetrics and pediatrics platform to support holistic care for mothers in pregnancy and postpartum care.
This intended collaboration aims to expand Babyscripts' footprint in the United States through Philips' established customer base in mother and child care and extend the ability to engage patients over the first three years of life after birth. Babyscripts complements Philips' current digital offerings in the clinical pregnancy sphere, while Babyscripts will leverage the expansion to extend its reach into the consumer and pediatric space through Philips' Pregnancy + app and service.
"Babyscripts historically has focused all of its efforts in creating a trusted channel between the patient and OBGYN throughout the pregnancy," says Juan Pablo Segura, President and Co-founder of Babyscripts. "It's only natural that we begin to expand that relationship through postpartum care and early stage pediatrics. On average, our patients use our app and remote monitoring service 6 times a week. Think of how exponentially more valuable a continued relationship will be for our customers, health systems, and plans, if we continue the relationship post the 9 months of pregnancy. This investment and intended partnership is a true testament to the fact that Philips and Babyscripts are both committed to rethinking the Mother/Baby patient journey in healthcare."
From developmental care solutions to educational materials, and through a wide range of remote and proximate monitoring devices, Babyscripts and Philips will continue their commitment to provide better health outcomes for mothers and babies at every step of their journey, from prenatal to postpartum; NICU to nursery; and beyond.
"We see great potential in Babyscripts and their business model and look forward to working closely with them to expand their offering and customer base in the United States," said Iman Farzaneh, head of Mother & Child Care in Philips. "Babyscripts' solutions fit perfectly with our own mission to improve people's lives through meaningful innovations. Helping to safeguard the health of mothers and their babies during pregnancy, birth and the first years of life is a very important part of it."
About Babyscripts
Babyscripts™ is a new model for prenatal care that is transforming the way expectant mothers use technology to work with their OBGYN practice. It's the first mobile, clinical solution to provide remote monitoring of an obstetrician's patient population while directly improving patient satisfaction and practice reimbursement.
About Royal Philips
Royal Philips (NYSE: PHG, AEX: PHIA) is a leading health technology company focused on improving people's health and enabling better outcomes across the health continuum from healthy living and prevention, to diagnosis, treatment and home care. Philips leverages advanced technology and deep clinical and consumer insights to deliver integrated solutions. Headquartered in the Netherlands, the company is a leader in diagnostic imaging, image-guided therapy, patient monitoring and health informatics, as well as in consumer health and home care. Philips generated 2017 sales of EUR 17.8 billion and employs approximately 77,000 employees with sales and services in more than 100 countries. News about Philips can be found at http://www.philips.com/newscenter.