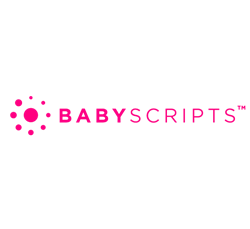 "In order to move the needle in maternal outcomes, innovative healthtech companies have to meaningfully partner with the provider community," says Anish Sebastian, CEO and co-founder of Babyscripts
WASHINGTON (PRWEB) March 19, 2019
Babyscripts, Inc., the leading virtual care platform for managing obstetrics, is excited to announce a strategic partnership with Inova Health System, the region's leading not-for-profit healthcare provider. In concert with a $500K investment, Inova will partner with Babyscripts to deploy the market's most extensive, clinically-validated virtual care obstetrics platform; and support holistic care for mothers in pregnancy and postpartum.
Babyscripts has spent the last four years building a clinically-validated, virtual care platform to allow OBGYNs to deliver a new model of prenatal care. Using internet connected devices for remote monitoring, Babyscripts offers risk-specific experiences to allow providers to manage up to 90% of pregnancies virtually, allowing doctors to detect risk more quickly and automate elements of care.
Aligned with their investment, Inova will deploy the Babyscripts' solution first to their employee health plan through Innovation Health, and then to their entire system. Inova will use Babyscripts to engage women continually through their pregnancy and postpartum with digital tools, which will also reduce risk across the population.
"In order to move the needle in maternal outcomes, innovative healthtech companies have to meaningfully partner with the provider community," says Anish Sebastian, CEO and co-founder of Babyscripts. "Inova is not only committing to leverage Babyscripts through a commercial agreement, but now putting hard earned capital toward transforming the entire delivery of obstetrical care as a category. It's a monumental decision that will go far beyond impacting moms solely in the DMV. This partnership truly is a validation of our vision for obstetrics: a risk-based model that we've coined 'precision prenatal care.'"
"Babyscripts offers the opportunity to further the impact of our wellness programs on the lives of expecting families in the region," says Seema Wadhwa, Assistant Vice President Sustainability and Wellness at Inova. "We currently see over 11,000 people through our childbirth and parenting education, and we are pleased to expand our holistic care offerings for pregnant moms and their families with this additional tool."
Babyscripts has leveraged their established success in prenatal care to support expansion into the postpartum space. With the recent acquisition of iBirth, one of the first provider-delivered, co-branded pregnancy apps in the marketplace, Babyscripts now offers the most holistic and engaging technology program to manage pregnancy and postpartum. With this additional funding, Babyscripts shows a commitment to dominate the space with clinically validated provider-prescribed technology for pregnancy and postpartum, now managing more than 150,000 pregnancies across 20 states.
About Babyscripts
Babyscripts™ is a new model for prenatal and postpartum care that is transforming the way expectant mothers use technology to work with their OBGYN practice. It's the first mobile, clinical solution to provide remote monitoring of an obstetrician's patient population while directly improving patient satisfaction and practice reimbursement.
About Inova
Inova is Northern Virginia's leading nonprofit healthcare provider, employing more than 18,000 team members and serving more than 2 million individuals annually through an integrated network of hospitals, primary and specialty care practices, emergency and urgent care centers, outpatient services and destination institutes, such as the Inova Heart and Vascular Institute (IHVI), Inova Schar Cancer Institute and Inova Neuroscience and Spine Institute. Our mission is to provide world-class healthcare-every time, every touch-to each person in every community we have the privilege to serve. Founded in 1956 as the Fairfax Hospital Association, Inova has grown with its surrounding community and the region to provide a full spectrum of health services, including Northern Virginia's only Level 1 Trauma Center and Level 4 neonatal intensive care unit. Its hospitals have a total of 1,800 licensed beds.
Four of Inova's five hospitals have received five-star rankings from the Centers for Medicare and Medicaid Services; they are the only hospitals in the Washington, DC region to have earned the highest rating from the federal agency. To achieve its mission of providing world-class healthcare to a diverse community, Inova is home to prominent clinicians and scientists, who drive innovation to improve patient care, prevent disease and promote wellness. More information and statistics about Inova can be found at http://www.inova.org.