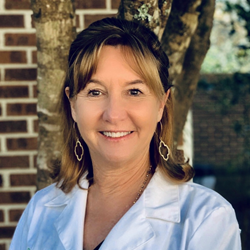 Dr. Demosthenes has transformed major organizations' way of thinking about virtual maternity care, and is a crucial addition to our team
WASHINGTON (PRWEB) August 05, 2020
Babyscripts, the leading virtual care platform for managing obstetrics, today announced that Lauren D. Demosthenes, MD, OB-GYN, and Medical Director of High Value Care and Innovation in the Department of OB-GYN at Prisma Health Upstate, is joining the Babyscripts Advisory Board as Senior Medical Director. In this role, Dr. Demosthenes will provide medical guidance and advise on matters of tech innovation, care redesign, and high value care, among other things.
As the first female OB-GYN to practice in Greenville, SC, Dr. Lauren Demosthenes comes to Babyscripts with over 35 years of experience: in private OB-GYN practice, development and course direction at the University of South Carolina School of Medicine Greenville, and as director of Innovation and High Value Care in the Department of OB-GYN at Prisma Health Upstate. She has completed leadership training with the American College of Obstetrics and Gynecology (ACOG), is a graduate of the Association of Professors of Gynecology and Obstetrics (APGO) Scholars and Leaders program and recently completed a Robert Wood Johnson Fellowship in High Value Care. She has also served as a member and Chair of the American College of Obstetricians and Gynecologists Clinical and Scientific Program Committee.
"Dr. Demosthenes has been one of our most respected and trusted advisors and one of the biggest advocates for our vision from day one," said Juan Pablo Segura, co-founder and President of Babyscripts. "At Babyscripts, we believe that true change in outcomes for mothers is going to come through the aid of technology, and we've recognized from very early on that we can't impact that change alone — we need experts guiding us along every part of the way of care transformation. Lauren has transformed major organizations' way of thinking about virtual maternity care, and is a crucial addition to our team."
"As a mom with personal prenatal care experience, and as an OB-GYN, my goal has always been to provide safe choices to women with respect to their healthcare," said Dr. Demosthenes. "Services like Babyscripts are especially impactful for modern women, maintaining the patient/provider connection while empowering women to actively participate in their maternity journey from the comfort of their own homes or offices — and it's so important for healthcare providers to promote these new care models that are efficient and convenient for both patient and provider. The energy within Babyscripts is palpable and motivating, and I'm looking forward to being part of the team, to help expand choice and innovation for women and our health care systems."
Dr. Demosthenes is a respected leader in the field of obstetrics and innovation, and a frequent speaker on the future of virtual maternity care. She has spoken nationally about high value care and care redesign and is the current editor for the OBG Management series "Break That Practice Habit," which focuses on de-implementation of unnecessary services in obstetrics and gynecology. She also has grant funding for medical student curricular development around substance use disorder and recovery and is working toward care redesign for persons with substance use disorder.
About Babyscripts
Babyscripts is a company delivering a new model for prenatal and postpartum care that is
transforming the way expectant mothers use technology to work with their healthcare providers. We've spent the last six years delivering the most-implemented mobile clinical solution for remote monitoring in pregnancy, which we call Virtual Maternity Care, with the mission to eliminate maternal mortality and improve access for all mothers. For more information on our virtual care solution and to request a demo, visit http://www.babyscripts.com.