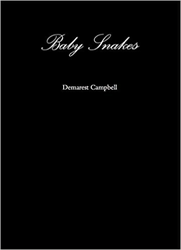 an eccentric story set during a strange time in an exotic location
BLOOMINGTON, Ind. (PRWEB) September 02, 2015
As a child, Demarest Campbell heard many stories of the British Raj. This, along with her voracious reading of classic literature, inspired her to write her own novel. "Baby Snakes" (published by Lulu) is her debut novel set in turn-of-the-century India.
Campbell describes her book as a pastiche of Victorian novels written in the style of John Fowles, Jose Saramago and Evelyn Waugh. Set during the British Raj in Calcutta between 1880 and 1900, "Baby Snakes" tells the story of clandestine relationships, opium and treason all in the midst of a turbulent Indian environment.
"'Baby Snakes' is an eccentric story set during a strange time in an exotic location," Campbell says.
Readers will follow as police medical examiner Dr. E.B. Charron watches over Delia, the only legitimate child of an aristocratic family. Her bastard brother, Capt. Shevchenko, is one of the most seductive and treacherous men in Calcutta. Shevchenko is funding the Boxer Rebellion through blackmail and deceit. These characters' separate lives will intertwine in dramatic fashion.
Campbell hopes readers learn more about British-occupied India, but most of all, she hopes readers find an entertaining story in her pages.
"Baby Snakes"
By Demarest Campbell
Hardcover | 6 x 9 in | 316 pages | ISBN 9781329411890
About the Author
Demarest Campbell was raised on firsthand stories of the British Raj by a family with generations of history in India. She is an avid reader of classic literature, period pieces and historical nonfiction. She is featured in Who's Who in America and has retired from a career in fine art and interior design to write full time.
Lulu empowers people of all ages to explore and express their interests, passions and expertise through books, photography and art. Since introducing self-publishing in 2002, Lulu has empowered creators in more than 225 countries and territories to produce nearly two million publications. Lulu Jr. allows children to become published authors, encouraging creativity, strengthening literacy and building self-esteem. Picture.com offers professional photography of collegiate and professional sports, memorable and historic events, fine art and home décor. For more information, please visit http://www.lulu.com.
###