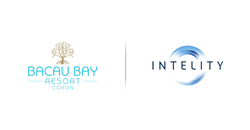 "Together with INTELITY, we'll be able to give guests everything they're looking for to ensure a memorable stay."
LOS ANGELES (PRWEB) February 09, 2021
INTELITY®, the provider of hospitality's most comprehensive guest experience platform, announced today it has signed a deal with Bacau Bay Resort Coron in the stunning Philippine island region of Palawan to provide contactless service and seamless hotel experience to guests through the INTELITY platform, which includes a branded mobile app, mobile check-in, mobile key, and GEMS®. This marks the first deal for INTELITY in the Philippines, and reflects the company's growing footprint in the Asia Pacific region.
With the implementation of the INTELITY platform, Bacau Bay Resort Coron will allow guests to check in directly from their smartphone or tablet before they even arrive. Once checked in, the app will generate a secure, convenient digital key that guests can use to access their room—entirely bypassing the need to stop at the front desk. Using the app, guests will have access to an array of digital amenities and services throughout their stay. They'll be able to find hotel and amenity information, make amenity and activity reservations, order food, schedule touchless deliveries, communicate with resort staff, and more—driving satisfaction and revenue for the property. To exit, all they'll need to do is approve their folio and check out digitally.
On the backend, GEMS will connect all guest requests and orders—including check-in, dining, housekeeping, room controls, and more—to Bacau Bay Resort Coron's systems and staff. With an organized, automated way to receive, track, and fulfill orders, the resort will be able to save staff time and optimize operations, ensuring the focus remains firmly on providing the highest level of service to guests.
"Nothing could be more important to our team than keeping guests safe, comfortable, and satisfied during their stay," remarked Gilbert Uy, General Manager at Bacau Bay Resort Coron. "Together with INTELITY, we'll be able to give guests everything they're looking for to ensure a memorable stay—streamlined service, real-time communication, and control over how much contact they have with staff. This is truly the superior experience guests expect."
Heralded as the new gateway to the Philippines' last frontier, Bacau Bay Resort Coron combines modern luxury with natural touches and an atmosphere of tranquility. In addition to 80 deluxe rooms and suites, the property features an exclusive private pier for island-hopping and diving adventures that explore Palawan's natural wonders, including crystal clear lagoons, underwater Japanese shipwrecks, and a deep dive into the cool and clean waters of Coron.
"We're thrilled to partner with Bacau Bay Resort Coron and bring the INTELITY platform to the Philippines, a country renowned for its hospitality," said Benjamin Keller, INTELITY SVP of Sales & General Manager, Asia Pacific. "This is a stunning coastal property that already offers guests immersion in nature and now, with their new mobile app, they'll be further elevating the guest experience with digital convenience."
For more information on this partnership or the INTELITY platform, please visit http://www.intelity.com.
About INTELITY
INTELITY is the global leader in contactless guest experience technology, uniting mobile, in-room, and operational tools into one fully-integrated hospitality platform. Built for the hotel, casino, and luxury residential markets, INTELITY has been named the "Official Mobile and In-Room Technology Provider" by the distinguished Forbes Travel Guide in 2017, 2018, 2019, and 2020, and is in use at boutique properties, casino-resorts, and global hotel brands, including Marriott, Fairmont, Hard Rock, and more. For more information, visit http://www.intelity.com.
About Bacau Bay Resort Coron
Bacau Bay Resort Coron is the New Gateway to Nature's Wonders, boasting its own private pier for the convenience of guests who want to explore the wonders of Coron. The resort has also 80 well-appointed rooms, wonderful dining choices such as the Amihan Restaurant and the Pugon Café. It is also fitted with great features like the Isla Pool Bar and the Serena Pier Bar perfect for watching the picturesque Coron sunset. Bacay Bay Resort Coron also has a ton of activities perfect for the family and a spacious pool for lounging around. For more information, please visit https://www.bacaubayresortcoron.com/.