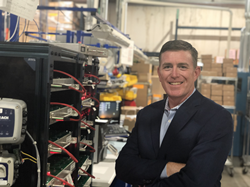 "I'm excited to be joining a globally-recognized organization like Bacharach with its 110 year legacy of innovation." said Toone. "I'm looking forward to working with our partners and customers around the globe as we continue to drive value with connected gas detection and analysis solutions."
PITTSBURGH (PRWEB) September 30, 2020
Bacharach, a leading provider of HVAC-R gas instrumentation, has announced the appointment of Matthew Toone as Chief Executive Officer. Toone joins Bacharach from Emerson, where he served as Vice President of Sales, Service and Solutions for Emerson's Cold Chain Platform. The company said Toone will be responsible for the further integration of the Parasense and Neutronics brands and setting the company's strategy as it moves into its next chapter of market expansion and growth.
"The board of directors selected Matt because of his leadership qualities, proven track record leading an international business and extensive knowledge of refrigeration and IOT solutions for the HVAC-R, food retail and healthcare markets." said Martin Carter, Chairman of Bacharach and CEO at Laurel Solutions. "We believe that Matt is the right person for the job. He has demonstrated the ability to foster a culture of innovation and we're excited to bring him on board."
Toone comes to Bacharach with more than 15 years of experience in HVAC-R industry. Prior to his time with Emerson's Cold Chain Platform, Toone was Vice President and General Manager at Cooper Atkins, a temperature management company focused on the food service, food retail, industrial and healthcare markets. While there, he led the integration of recent acquisitions and positioned the company to deliver significant growth from their Internet of Things (IoT) software-enabled solutions.
"I'm excited to be joining a globally-recognized organization like Bacharach with its 110 year legacy of innovation." said Toone. "I'm looking forward to working with our partners and customers around the globe as we continue to drive value with connected gas detection and analysis solutions."
Bacharach and its subsidiaries, Parasense and Neutronics, provide cleantech solutions for gas and refrigerant leak detection and identification, refrigerant tracking, combustion and emissions analysis instrumentation and high-purity oxygen analysis in commercial and industrial applications. Bacharach products make the heating, ventilation, air-conditioning, refrigeration (HVAC-R), healthcare and food retail industries safer, cleaner, and more efficient, enabling customers to increase productivity and reduce costs while protecting lives and the environment.
For more information, visit http://www.mybacharach.com.