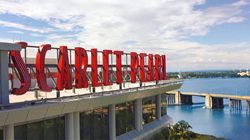 "Scarlet Pearl Casino Resort will not sit on the sidelines when our community is in need," says LuAnn Pappas, CEO of Scarlet Pearl. "Scarlet Pearl is proud of our 'caring culture' that serves customers, associates and the Mississippi Gulf Coast community. Helping MDES accomplishes all three."
D'IBERVILLE, Miss. (PRWEB) May 05, 2020
Employees of Scarlet Pearl Casino Resort have returned from furlough to assist the Mississippi Department of Employment Security (MDES) in processing unemployment claims and helping Mississippians access their benefits. Staffed by 30 employees from the Hotel Reservation and Casino Host departments, the new satellite call center will accept calls from the main MDES number and operate seven days a week from 7 a.m. to 12 a.m. The D'Iberville-based casino resort is the first private business in Mississippi to lend services to the state in this way.
"Scarlet Pearl Casino Resort will not sit on the sidelines when our community is in need," says LuAnn Pappas, CEO of Scarlet Pearl. "Scarlet Pearl is proud of our 'caring culture' that serves customers, associates and the Mississippi Gulf Coast community. Helping MDES accomplishes all three."
The Scarlet Pearl is uniquely poised to assist because they meet key MDES requirements: Scarlet Pearl is based in Mississippi and, as required by the Mississippi Gaming Commission, employees have the necessary background checks. Employees also take customer service classes as part of Scarlet Pearl's continual training program. In creating the on-property infrastructure, Scarlet Pearl's facilities and information technology departments made the property an extension of MDES while implementing strict social distancing measures.
Pappas sees Scarlet Pearl's partnership with MDES as the start of innovative solutions between Mississippi casinos and the state to keep people working and help the community. Says Pappas, "As our world evolves, casinos will too."
Media Available

Media Contacts
MDES - Dianne Bell: dbell@mdes.ms.gov
Scarlet Pearl - Ben Koff: 702.901.1565 or Ben.Koff@ScarletPearlCasino.com
About Scarlet Pearl Casino Resort
Scarlet Pearl Casino Resort (scarletpearlcasino.com) is a privately held company located on the Mississippi Gulf Coast in D'Iberville, MS. The casino resort features 300 hotel rooms, a miniature golf course, an event center, a luxurious pool and multiple restaurants. In addition to the non-gaming amenities, the casino is home to DraftKings at Scarlet Pearl Sportsbook over 900 slots, including over 50 live video poker machines, and over 30 table games, including Blackjack, Craps, and Roulette.