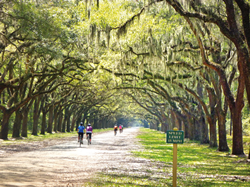 "I can't think of a better way to learn about American history than to see it up close and actively," said Tom Hale, Backroads Founder and President
BERKELEY, Calif. (PRWEB) February 02, 2021
Backroads, the leader in active travel, in conjunction with Outdoor Afro, the nation's foremost network for celebrating and inspiring Black connections and leadership in nature, today announced their new Historic Underground Railroad Multi-Adventure Tour in Georgia and South Carolina. Launched in celebration of Black History Month, this new one-of-a-kind journey offers the opportunity to travel deep into the Black history and culture of the Southeast, exploring our nation's past while hiking, biking and kayaking through the lush landscapes surrounding Savannah and Charleston. 
 
This new Backroads tour is a journey into our country's past, from exploring landscapes once crossed by the historic Underground Railroad to taking guided walks focused on the history of people in the coastal cities of Savannah and Charleston; learning about the Gullah culture through storytelling and song at a Lowcountry boil; visiting the Penn Center, one of the first schools for formerly enslaved people; paddling the waterways of the ACE Basin, once home to dozens of rice plantations; and discovering the marshy channels of the Combahee River, where Harriet Tubman once guided a regiment of Union soldiers. The tour will also visit the Magnolia Plantation, where guests will learn about the experience of Black people from slavery to Reconstruction and into the 1920s and the era of Civil Rights.
 
"I was fortunate enough to take a similar adventure with Backroads, which inspired this trip," said Rue Mapp Founder and CEO of Outdoor Afro. "One of the best parts was the deep knowledge and information that I was exposed to; much of the history was unexpected and I was most fascinated by the traditions of the Gullah people of the Lowcountry region of South Carolina. As a Black-American woman, I appreciated how the Black history of the region was presented in triumph and joy as opposed to through the lens of pain and suffering. The history and lore was such an immersive experience for me, and I am beyond excited to make this trip available to the Outdoor Afro community."
"I can't think of a better way to learn about American history than to see it up close and actively," said Tom Hale, Backroads Founder and President. "We've been supporters of Outdoor Afro for many years and believe in their mission of expanding access to nature among the Black community. We were thrilled to work with Rue Mapp and her staff to create this new trip and look forward to bringing history to life when the trip launches in October."  
 
The tour was created in conjunction with Outdoor Afro regional leaders who live and work in the South Carolina and Georgia areas. The Backroads Historic Underground Railroad Multi-Adventure tour will run October 3-7, 2021, and is available for booking now. More information here.  
 
About Outdoor Afro 
Outdoor Afro has become the nation's leading, cutting-edge network that celebrates and inspires Black connections and leadership in nature. Outdoor Afro is a national not-for-profit organization with leadership networks around the country. With more than 80 leaders in 42 cities nationwide, Outdoor Afro is changing the face of conservation by connecting thousands of people to outdoor experiences.  
 
About Backroads  
Backroads was founded in 1979 by Tom Hale and has been a leading innovator in active and adventure travel for over 40 years. The company hosts thousands of guests each year, 75% of whom are repeat guests or referrals from past guests, in hundreds of locations across the globe. Backroads is a founding member of the Adventure Collection. For more information, please visit backroads.com. Or call 800-462-2848 Monday-Friday, 8 a.m. to 5 p.m., and weekends 8 a.m. to 2 p.m., Pacific time.