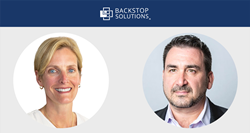 CHICAGO (PRWEB) August 18, 2020
Backstop Solutions Group, the leading cloud-based productivity suite for institutional and alternative investors, today announced the appointment of two new advisory board members, Hope Morrissey and Mike DeAddio. Both are recognized authorities within the institutional investment space, having spent years cultivating specialized insight and operating knowledge of investment consultants and hedge funds, respectively, that will further expand the collective expertise of Backstop's advisory board.
"Hope and Mike both bring tremendous operations experience to our organization," said Clint Coghill, CEO, Backstop Solutions Group. "A necessary complement to the investment expertise that exists among our current board members, this operational guidance will be instrumental in furthering Backstop's mission to help clients make the most of their time and live ahead of the curve. Hope and Mike's addition underscores Backstop's continuous efforts to strengthen its advisory board through the appointment of industry veterans who offer a diverse range of experiences, understanding, and perspectives, in order to best serve our clients and maintain our position of leadership within the industry."
Morrissey serves as Chief Client Officer for Capital Preferences, Ltd., a technology and research firm that uses breakthrough behavioral economic models and applied decision science to help global financial institutions and their advisor networks understand client risk tolerance and loss aversion leading to improved investment recommendations. Prior to Capital Preferences, Morrissey spent over two decades as Global Head of Sales and Client Services at InvestorForce (acquired by MSCI in 2013), a technology company specializing in data aggregation, performance measurement and investment reporting software for the institutional investment community globally.
"I look forward to the opportunity to help guide Backstop's innovative work within our industry," said Morrissey. "As a female leader in the financial services and technology sector, I am also proud to lend my experience and expertise to an organization that recognizes the value of diversity and inclusion at the board and executive level."
Most recently, DeAddio served as President and COO of WorldQuant and was responsible for global day-to-day operations, execution of strategic business initiatives and capital development initiatives. Prior to joining WorldQuant in 2014, DeAddio served as Chief Operating Officer, Chief Compliance Officer and Head of Investor Relations at Elm Ridge Capital, and before that, as Chief Operating Officer at Credit Suisse Alternative Asset Management. He was also Chief Administrative Officer and Chief Technology Officer at Silver Point Capital and a Managing Director in the Credit business at Citadel Investments Group.
DeAddio serves on the board of directors of BronxWorks and recently served on the initial advisory board for the Massachusetts Institute of Technology Institute for Data, Systems and Society (IDSS). He also holds a US patent entitled "Object Oriented System For Managing Complex Financial Instruments."
"I am thrilled to join Backstop's advisory board," said DeAddio. "I believe my background in financial operations will yield valuable insight into the inner workings of institutional investors to further Backstop's mission of helping this industry to make the most of every minute. I look forward to working alongside my fellow board members and organizational leadership in developing the solutions that will define the future of productivity for institutional investment professionals."
For more information, visit https://www.backstopsolutions.com/.
About Backstop Solutions Group, LLC
Backstop's mission is to help the institutional investment industry use time to its fullest potential. We develop technology to simplify and streamline otherwise time-consuming tasks and processes, enabling our clients to quickly and easily access, share, and manage the knowledge that is critical to their day-to-day business success. Backstop provides its industry-leading cloud-based productivity suite to investment consultants, pensions, funds of funds, family offices, endowments, foundations, private equity, hedge funds, and real estate investment firms.