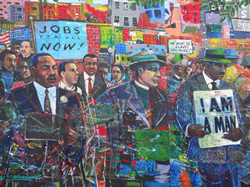 "In 1966, a Gallup poll had found that [Martin Luther] King was viewed unfavorably by 63% of Americans. Today, of course, King is an American icon, and a 2011 poll found that 94% of Americans had a positive view of him."
CHARLOTTESVILLE, Va. (PRWEB) February 04, 2019
BackStory, an American history podcast produced by Virginia Humanities, releases "BlackStory: BackStory Celebrates Black History Month with a Compilation."
After more than 10 years of audio storytelling, BackStory has an impressive back catalog that features many stories about African Americans. Nathan showcases some of BackStory's best content with this week's episode, a compilation just for Black History Month 2019.
Hear about one historian's heartbreaking research into the human effects of lynching to the extraordinary story of Korla Pandit, the turban-wearing showman of California's cocktail lounges. BackStory also shares a segment from "Scene On Radio" about the racial cleansing in Corbin, Kentucky that took place 100 years ago, but mostly remains hidden from the town's official history.
Segments in this episode come from the following previously published shows:
"Reflecting on Darkness: Lynching; Americans and the Holocaust"
"Color Lines: Racial Passing in America"
"The Real Martin Luther King: Reflecting on MLK 50 Years After His Death"
"BlackStory: BackStory Celebrates Black History Month with a Compilation," is available now. Find it and every episode of BackStory on the website (http://www.BackStoryRadio.org) or on popular podcatchers including iTunes, Spotify and Google. BackStory publishes every week at noon and is available for free.
Image credit: "Civil Rights mural at Martin Luther King Memorial Park in Atlanta," May 18, 2013 by denisbin via Flickr. Used under CC BY-ND 2.0
About BackStory: BackStory brings historical perspective to the America of today. Each week, U.S. historians Ed Ayers, Brian Balogh, Joanne Freeman and Nathan Connolly look at current issues and trace them back to their roots in American history. From the days of the Early Republic to the 21st century, BackStory reveals the connections (and disconnections) between the past and the present. BackStory makes history accessible for listeners – not only in the United States, but around the globe.
BackStory is available for free on Apple Podcasts, Google Play, Spotify, Stitcher and other apps. Get new episodes delivered directly to your device by following BackStory on your preferred podcatcher. New to podcasts? Just search for BackStory (and look for the blue logo in the "Society and Culture" category) and then click "Subscribe."
About Virginia Humanities: Virginia Humanities connects people and ideas to explore the human experience and inspire cultural engagement. As the state humanities council, Virginia Humanities reaches millions in its estimated annual audience through festivals, grants, fellowships, digital initiatives, teacher institutes, radio programs, podcasts, apprenticeships, and school programs. Headquartered at the University of Virginia in Charlottesville, Virginia Humanities endeavors to serve Virginians in every corner of the Commonwealth. To learn more visit VirginiaHumanities.org.