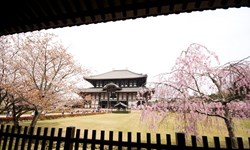 Japan is an enthralling mixture of ancient and futuristic, technology and mythology
Bangkok, Thailand (PRWEB) August 06, 2013
The fully customizable nine-day, eight-night tour begins in Tokyo, one of the most futuristic cities in the world and ends in the ancient city of Kyoto, gradually taking travelers back in time to how Japan used to be.
In Tokyo, travelers will have the chance to visit the majestic Meiji Shrine, the energetic Tsukiji Fish Market and see the fascinating sub-cultures that exist in the popular (and sometimes bizarre) Harajuku shopping district where ethereal fashions often make travelers question the planet they are visiting.
Along the journey through time, travelers will also visit the peaceful, scenic natural spring village of Hakone, a quaint region of outstanding natural beauty that rests near to the iconic Mt. Fuji overlooking the calm waters of Lake Ashi.
The tour then climaxes in Kyoto with three nights in the city some refer to as the 'cultural capital' of Japan, a place of charm and old-world feel combined with some 2,000 temples and shrines.
The 'Highlights of Japan' trip is now available with a discount of 15% when taken before 30 December 2013.
"Japan is an enthralling mixture of ancient and futuristic, technology and mythology," said Backyard Travel's General Manager Maeve Nolan. "Tokyo is a innovative metropolis, Kyoto oozes old-world charm and Hakone provides spectacular nature and awe-inspiring landscapes – this new tour has something for everyone and we hope the special discount will encourage even more people to experience this wonderful country."
About Backyard Travel
Bangkok based Backyard Travel is an online travel company specializing in tailor-made tours to Vietnam, Thailand, Cambodia, Laos, Myanmar, Indonesia, Japan and China. For more information about Backyard Travel, visit http://www.backyardtravel.com or Facebook page http://www.facebook.com/BackyardTravel.