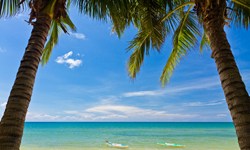 This beach break trip to an idyllic resort gives travelers a wonderful way to find peace and tranquility, perhaps as an addition to their exploration of Vietnam, which we would also be delighted to plan on their behalf
Bangkok, Thailand (PRWEB) July 18, 2013
The four-day, three-night Vietnam beach break gives travelers an idyllic escape in the decadent region of Nha Trang which looks out over the South China Sea. The region is famous as one of the finest stretches of sandy beach in Vietnam and has proved popular with visitors for decades.
The Nha Trang Beach Break tour is a wonderful opportunity for travelers to find their spot in paradise and experience the perfect balance of luxury facilities and picturesque nature: a dreamy, inspirational combination.
Throughout their stay in the idyllic region, travelers may occupy themselves by doing as much or little as they please. Should they crave adventure, Backyard Travel can make arrangements for travelers to explore the nearby islands, take part in some wonderful water sports and activities or journey to the local Cham ruins to investigate some captivating culture of the area. It's also the perfect place to unwind and enjoy moments of serenity with a cocktail in hand and sand between their toes.
"Vietnam has some of Asia's most idyllic beaches and coastal cities," said Backyard Travel's General Manager Maeve Nolan. "This beach break trip to an idyllic resort gives travelers a wonderful way to find peace and tranquility, perhaps as an addition to their exploration of Vietnam, which we would also be delighted to plan on their behalf."
About Backyard Travel
Bangkok based Backyard Travel is an online travel company specializing in tailor-made tours to Vietnam, Thailand, Cambodia, Laos, Myanmar, Indonesia, Japan and China. For more information about Backyard Travel, visit http://www.backyardtravel.com or Facebook page http://www.facebook.com/BackyardTravel.