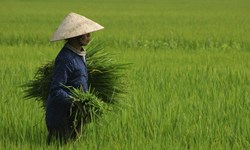 We hope all our tours sate that travel desire but this one especially is perfect for any traveler who'd really love to get to grips with local culture and the sense of community in rural Vietnam
Bangkok, Thailand (PRWEB) August 27, 2013
The five-day, four-night tour allows travelers the chance to lift the lid on the captivating culture of Northern Vietnam with various insider experiences - such as a homestays in Mai Chau and Ky Son - that will not only enhance travelers understanding of the local region but also directly aid the lives of underprivileged locals.
Over the course of the five day tour, travelers will be able to enjoy two guided bike trips and one walking tour around the region, allowing scenic yet leisurely exploration offering visitors to stop at will to interact with smiling, friendly locals.
Travelers will enjoy a homestay in one of the Thai-style stilted houses of the Ban Lac hill tribes (who originate from Thailand), the largest group in the Mai Chau region. The comfortable homestay experience will enable total immersion into the local way of life and the chance to understand the culture of the rural region.
For every traveler that embarks upon the cultural exploration, Backyard Travel will make a contribution to a registered charity which aims to enhance the lives of underprivileged locals. Travelers will have the chance to meet and chat with people their donation will assist, and share their experiences over meals and drinks.
"We think many modern travelers see themselves as more than tourists - they feel they have adopted the role of 'cultural explorers'," said Backyard Travel's General Manager Maeve Nolan. "We hope all our tours sate that travel desire but this one especially is perfect for any traveler who'd really love to get to grips with local culture and the sense of community in rural Vietnam."
About Backyard Travel
Bangkok based Backyard Travel is an online travel company specializing in tailor-made tours to Vietnam, Thailand, Cambodia, Laos, Myanmar, Indonesia, Japan, and China. For more information about Backyard Travel, visit http://www.backyardtravel.com or Facebook page http://www.facebook.com/BackyardTravel.