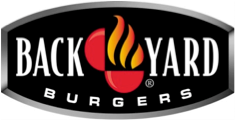 NASHVILLE, Tenn. (PRWEB) September 08, 2015
Back Yard Burgers, a better burger concept with big, bold flavors, has again committed to this year's No Kid Hungry® campaign to battle childhood hunger. This year's Back Yard Burgers Dine Out for No Kid Hungry drive runs throughout September, with the goal of raising at least $50,000 for the cause.
Back Yard Burgers customers who donate at least $5 will receive a coupon booklet, in partnership with Pepsi, which is valued at $20. Customers who donate $1 will receive a coupon for a free scoop of Blue Bunny ice cream. All Back Yard Burgers locations will also be competing with each other to see who can raise the most money for No Kid Hungry in the shortest amount of time.
Back Yard Burgers has set a goal of raising at least $50,000 for No Kid Hungry during this year's drive, more than tripling the amount raised through the brand's "donate-a-dollar" to No Kid Hungry campaign in 2014. Every dollar donated can create up to 10 meals for hungry children.
According to Share Our Strength, the nonprofit that operates the No Kid Hungry campaign, one in five American children struggles with hunger, meaning they may not know when or where their next meal will come. Since 1984, Share Our Strength has raised more than $528 million through corporate sponsorships, events and donations. During that same timeframe, funds have been granted to more than 1,100 organizations nationwide that are effectively helping feed kids.
"No Kid Hungry's mission is a personal one to me," said Dave McDougall, Chief Executive Officer of Back Yard Burgers. "No child should ever worry about where his or her next meal is coming from. Back Yard Burgers is committed to supporting the communities we serve, and this is just one way we're able to do that. For us, this is about standing up for the right thing."
Back Yard Burgers' involvement in the campaign also includes a local relationship with Coach Larry Clark in Little Rock, Arkansas, who established the Life Skills for Youth program in 2007 to help provide structured after-school and summer programs for kids. Through the program, thousands of children have been put on the path to success, eating nutritious meals while learning lessons about how to improve their personal health, how to better deal with anger issues, and manage their time and money.
McDougall has also personally met with lawmakers on Capitol Hill in an attempt to spread the word about the importance of summer access to food for children in need. Proposed legislation known as the Hunger-Free Summer for Kids Act is expected to be debated on the floor of the U.S. Senate this fall.
"We all have a part to play. No Kid Hungry has eased the pain of hunger for so many children. Back Yard Burgers is proud to partner with this amazing organization, and our franchisees are eager to do their part. I'm looking forward to achieving great things across the Back Yard Burgers system to benefit this important cause." McDougall said.
About Back Yard Burgers
Back Yard Burgers is a fast casual, better-burger concept that takes pride in their uncompromising commitment to "providing custom, flame-grilled variety with care." The company's franchise partners and employees are passionate about offering the freshest ingredients, allowing their guests to customize their meals and to serving the same high-quality food that they would offer at home to their own family. Along with offering made-to-order gourmet Angus burgers, Back Yard Burgers' menu includes delicious grilled chicken sandwiches, fresh and creative salads, hand-dipped milkshakes, and freshly baked desserts. Today the franchise brand operates 60 locations in 13 states.
For franchising opportunities visit: http://www.backyardburgers.com/franchising.
About Share Our Strength's No Kid Hungry® Campaign
No child should grow up hungry in America, but one in five children struggles with hunger. Share Our Strength's No Kid Hungry® campaign is ending childhood hunger in America by ensuring all children get the healthy food they need, every day. The No Kid Hungry campaign connects kids in need to effective nutrition programs like school breakfast and summer meals and teaches low-income families to cook healthy, affordable meals through Cooking Matters. This work is accomplished through the No Kid Hungry network, made up of private citizens, public officials, nonprofits, business leaders and others providing innovative hunger solutions in their communities. Join us at NoKidHungry.org.
###