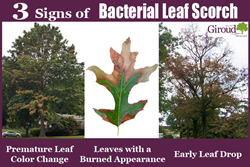 Treatment with Oxytetracycline can dramatically improve a tree's chances of survival.
HUNTINGDON VALLEY, Pa. (PRWEB) September 24, 2018
Autumn is a time to enjoy the beautiful changing colors of the trees, with leaves transforming from green to shimmering shades of red, orange and yellow. But the leaves on many Oak Trees in the Philadelphia area are turning straight to brown and the color change is happening much too early. The cause of this is Bacterial Leaf Scorch, an infection that spreads easily and can kill an Oak if it's not treated! The experts at Giroud Tree and Lawn share the 3 signs of Bacterial Leaf Scorch so homeowners will what to look for on Oak Trees!
What is Bacterial Leaf Scorch?
Bacterial Leaf Scorch is a serious, often fatal disease that infects many trees, and it is most prevalent in Oaks. This infection is spread from tree to tree by leafhoppers, a tiny leaf eating insect. Once infected, the vessels of the tree become clogged with a bacterium that spreads throughout the tree. Without treatment, Bacterial Leaf Scorch will kill a tree. Giroud's ISA Certified Arborists use an antibiotic called Oxytetracycline to treat trees infected with Bacterial Leaf Scorch.
"There is no cure for Bacterial Leaf Scorch," says Drew Slousky, Giroud Vice President and ISA Certified Arborist. "However, treatment with Oxytetracycline can dramatically improve a tree's chances of survival."
Seen in Fall, Treated in Spring
If a tree is infected with Bacterial Leaf Scorch, treatment must be applied in early Spring when the bacteria is most vulnerable. However, the only time homeowners can see the symptoms of this infection is in late summer to early Fall. To the untrained eye, the symptoms are easy to miss. Homeowners might think that the Oak tree is simply transitioning with the changing seasons. Here are Giroud's 3 Signs of Bacterial Leaf Scorch:
1. Premature Leaf Color Change
2. Early Leaf Drop
3. Leaves with a Burned Appearance
Bacterial Leaf Scorch is most common in all species of Oak Trees. However, it can also infect Elms, Sycamore, Mulberry, Sweetgum, Sugar Maple, and Red Maple.
Jeanes Hospital: A Bacterial Leaf Scorch Treatment Success Story
The proof is in the results! In Giroud's informational video, the Tree Care Industry Association Certified Tree Company treated the Oaks at Jeanes Hospital in Philadelphia for Bacterial Leaf Scorch for several years. With antibiotic treatments of Oxytetracycline, these Oaks display full crowns of lush green leaves. Conversely, just across the street, untreated Oaks show severe Bacterial Leaf Scorch decline.
How a Tree Infected with Bacterial Leaf Scorch Benefits from Deep Root Feeding
Almost any tree can benefit from deep root fertilization, but it's even more critical for a tree infected with Bacterial Leaf Scorch. Injecting fertilizer deeply into the soil near a tree's roots gives the tree the added strength it needs to fight the infection and promote strong root growth. Giroud recommends a slow release fertilizer that delivers biostimulants and critical nutrients for up to 12 months.
What Happens if Homeowners Choose Not to Treat Bacterial Leaf Scorch
There is no doubt that, if left untreated, a tree infected with Bacterial Leaf Scorch will eventually die. While losing a valuable element of the landscape is frustrating, the damage a sick tree can do to the homeowner's property can be even more upsetting! Large limbs that dry out from lack of proper water circulation can break off and fall on to roofs, garages, cars and playsets. A sick tree is significantly more susceptible to storm damage, especially freezing winter storms and during hurricane season when winds can reach over 30 miles per hour. By not treating a tree infected with Bacterial Leaf Scorch, Homeowners are putting the property at risk!
There is no cure for Bacterial Leaf Scorch, but an ISA Certified Arborist will have the know-how to treat the trees with the correct antibiotic and the appropriate amount of it.
It's important for homeowners to ask the right questions when choosing a tree service company to treat trees. Homeowners should ask about the company's experience, credentials, and for recommendations from customers.
About Giroud Tree and Lawn
Giroud Tree and Lawn specializes in tree service, lawn care and mosquito and tick control programs that make customers love doing business with the company since 1974. Serving Bucks, Montgomery and Philadelphia Counties, the company offers professional tree and lawn evaluation, tree pruning, tree removal, insect and disease control, fertilizing, stump removal, traditional and 100% organic lawn programs and mosquito and tick control. Giroud Arborists are certified by the International Society of Arboriculture (ISA) and have the knowledge and experience required to properly diagnose, treat and maintain trees and lawn health. The company is Accredited by the Tree Care Industry Association and Better Business Bureau. Giroud has also been awarded the Angie's List Super Service Award® every year since 2005. The "Giroud Treework for Charity" program donates free tree care services to parks, historical sites and other non-profit organizations located in the Company's service area. For more information, visit the company website at http://www.giroudtree.com or call 215-682-7704.