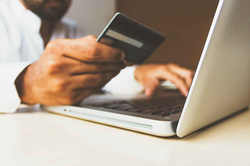 For all of these reasons, it is our pleasure to give Upstart our highest recommendation among providers of Bad Credit Loans in 2020.
OVERLAND PARK, Kan. (PRWEB) November 24, 2020
TopConsumerReviews.com recently gave a best-in-class 5-star rating to Upstart, a leading lender in the Bad Credit Loans market.
For people with bad credit – typically, with scores lower than 600 - getting a loan can feel like a paradox. They need money to get out of debt, but because they're in debt they have a harder time being approved for a loan. Some of the biggest contributors to poor credit scores are unexpected financial troubles like unemployment or hospital bills, using credit irresponsibly, or just a lack of understanding about how to achieve and keep a more positive credit history. Fortunately, there are lenders who specialize in loans for those with low credit scores, eliminating the need for riskier borrowing situations like payday loans with exorbitant interest rates.
"Upstart takes a unique approach to Bad Credit Loans," explained Brian Dolezal of TopConsumerReviews.com, LLC. "This company, founded by former employees of Google, considers far more than just your credit score when determining your eligibility for a loan. If you have a college degree in a stable field, an established work history, and/or several years of credit on your record, Upstart takes it all into account and makes it more likely that you'll get the loan you need. You can borrow anywhere from $1,000 to $50,000, depending on contributing factors, and you'll get a fixed-rate APR no matter how much you borrow. Thousands of consumers rave about the ease of the application process and the overall experience with borrowing through this lender. For all of these reasons, it is our pleasure to give Upstart our highest recommendation among providers of Bad Credit Loans in 2020."
To find out more about Upstart and other sources of Bad Credit Loans, including reviews and comparison rankings, please visit the Bad Credit Loans category of TopConsumerReviews.com at https://www.topconsumerreviews.com/bad-credit-loans/.
About Upstart
Upstart is a leading AI lending platform partnering with banks to expand access to affordable credit with more than $6B in loans originated. More than two-thirds of Upstart loans are approved instantly and are fully automated. Upstart was founded by ex-Googlers in 2012 and is based in San Mateo, California and Columbus, Ohio.
About TopConsumerReviews.com
TopConsumerReviews.com, LLC is a leading provider of reviews and rankings for thousands of consumer products and services. From Bad Credit Loans to Debt Relief and Personal Loans, TopConsumerReviews.com delivers in-depth product evaluations in order to make purchasing decisions easier.