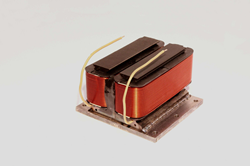 With over 60 years of magnetic field component experience, Badger Magnetics can help you solve your electrical current application issues.
MILWAUKEE (PRWEB) May 07, 2020
Stator manufacturing is the art of producing the motor component that allows a magnetic field in the air gap. When the supply is fed in the stator coils, a magnetic field is created and travels through the air gap that is associated to the rotor conductor – creating voltage in the rotating part of a motor.
A Stator is the magnetic pole that typically revolves around the outside of the rotor in a motor while using an AC motor's windings to create torque. The term Stator is derived from the word stationary. The stator is the stationary part of the AC motor. A rotor is the rotating electrical component.
The stator core, stator winding and outer frame are the 3 parts of the stator. The 3-phase supply is given to the winding of the stator. The size of the stator winding is large for carrying heavy currents. The stator is also highly insulated because of the high voltage that it induces.
Accuracy of the winding in the stator produces reliable functionality. Badger Magnetics manufactured this motor stator for a remote generator power application. These generators work seamlessly with a variety of fuel supplies including: natural gas, propane, ethane, biogas and multiple associated gas streams. The generators are designed for rugged and remote operation with the most demanding mission-critical loads.
Badger Magnetics was contacted by this Original Equipment Manufacturer with very specific needs for the stator that was required in their Stirling Engines. The Stirling Engine that was the power source for this generator was manufactured with an entirely closed system, frictionless piston, highly efficient and requires no maintenance or lubrication. Each generator also boasts a small footprint that make it an ideal power source.
With over 60 years of magnetic field component experience, Badger Magnetics can help you solve electrical current applications with:

Impedance Bonds
Inductors
Line Reactors
Load Reactors
Oil Filled Transformers
Rotary Speed Sensors
Stators
Contact Badger Magnetics today for a quote on your stator manufacturing needs.