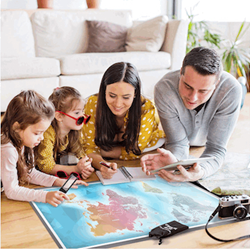 This is not just an ordinary travel gizmo but a personal travel companion in which achieving travel dreams is made, inspired, and fulfilled by simply 'scratching off'.
NEW YORK (PRWEB) December 13, 2018
Earlier this week, Bago, the company specializing travel and packing solutions, launched its scratch off map of the world poster, the Best Gift for World Travellers that is creating buzz among tour aficionados who love to reminisce memories about their unbelievable journeys and plan their next once-in-a-lifetime trips. Along with the product launching is Bago's collection of 10 reasons why travelers need the "[Scratch Off Map" before they tag themselves as "real wanderlusters". According to Bago owners, these reasons are reflections of their personal travel experiences and business researches which their team executed prior to each of their product launching.
The following are the ones identified by Bago as 10 reasons why "Scratch Off Map" is a wanderlust must-have:
1. It is a unique and sassy travel must-have for travel enthusiasts like you. The entire package contains one scratch off map (36 x 27 x 0.1 inches), one gift tube, one guitar scratcher, and one mini magnifying glass. The deluxe and accurate poster-sized world map is printed on glossy paper with beautiful watercolor background underneath shiny gold scratch foil. It fits standard poster frames, perfectly sized for any wall. The guitar scratcher is light and soft, helping you to scratch with ease and precision, while the mini magnifying glass enlarges five times to assist with smaller details or for the visually impaired.
2. It is your adventure tracker. You can use this scratch off map of the world to record your memorable travels. Scratch off the places you have visited and see how far have you gone and how many dreams have you have already fulfilled. It acts as an actual outline of your travel accomplishments. As you cross a dream destination out of your plain bucket list, you likewise scratch it off on this world map poster!
3. It is your travel planner. If you depend on your travel buddies on where to go next, you might as well use this scratch off map to give you more reasons to plan your next big destination yourself. You will literally map out your dream holiday and pick out places to satisfy your craving for soul-uplifting experiences!
4. It infuses life to your boring plain wall at home. You saw it right! It is not just an ordinary scratch off map—it could even turn into a stunning wall display! This scratch off map has impressive features of a two-part wall decor design with panoramic dimensions and a layout fit for a standard size panoramic frame. Printed on the poster edges is the 2D black frame that delivers the key to creative and professional looking display in any room.
5. It is a great conversation starter. Imagine having one in your living room or another one in your office and you will never run out of things to talk about. A sleek and deluxe travel tool such as this scratch off map offers you a run down the memory lane. This eye-catcher will surely entice many of your visitors that they may be interested in getting one themselves. It could be the highlight of your family gatherings, meetings, reunion, or what-have-you!
6. It makes learning and teaching geography fun and exciting. Kiss boring blank maps and confusing map points and figures goodbye and embrace this fun and exciting way to learn and teach geography. If you have kids who are fed up with the old way of memorizing place names, this is the solution to your dilemma! Kids can enjoy scratching marks of places they like while at the same time learn to engage in a discussion about such to help them remember terms and locations. Even more admirable is the fact that teachers could use it as an educational tool as kids would surely love to do the scratching and discovery by themselves. Also, teenagers who love pajama parties can pull an all-nighter talking about their dream destinations and secret adventures upon being reminded by the places they scratch off the map. See, it could even entice everybody to have the best time for a memorable bonding!
7. It is a perfect gift for kids, adults, or anyone in between. As it is easy to use and is interestingly fun to explore, you can use it as a gift for your family, friends, and colleagues. You can even personalize your message for your gift recipients as it is packed in a tube with a portion for you to write on.
8. It is durable and secured. You will not actually worry about having it shipped from one far place to another as it is secured in a compact tube that allows you to ship or carry it safely. It is so durable and is 100% foolproof.
9. It comes with exclusive bonuses. Remarkably, it is the only map that comes with a world skyline art featuring 32 iconic buildings and monuments, allowing you to scratch off the ones you visited in your world travels or those you plan to visit from your travel goals like pro travelers do. Also, this extremely fun and easy to use tool comes with a bonus accessory set for easy and accurate scratching with a silver marker that enables you to write and mark on the map or fix any scratched off mistakes effortlessly!
10. It is released by a reputable company. Finding it novel and remarkably educational? That is because it is released by Bago. This newly released product is the result of Bago's sincere effort of finding innovative solutions to your travelling concerns and of searching for ways on how to be as socially relevant as possible. With this comes Bago's pledge to deliver quality and efficient service through their line of baggage and packing solutions that help you save time and money while guaranteeing you a stress-free experience. Get it here for 20% off!
Bago's pioneering techniques to provide customers with quality service delivery are embedded in each of the items it sells like this "Scratch Off World Map", that for them is not just an ordinary travel gizmo but a personal travel companion in which achieving travel dreams is made, inspired, and fulfilled by simply 'scratching off'.