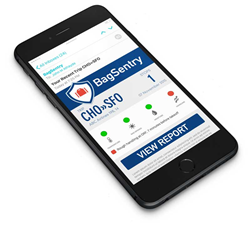 Know if your bag was opened during transit, dropped, left in the rain or just not loved.
Reston, VA (PRWEB) November 19, 2015
BagSentry, a new service for travelers that monitors their checked luggage for possible damage or unauthorized intrusion with an advanced sensor and mobile application, was launched today on Kickstarter.
BagSentry is a new service for travelers to give their luggage a voice. When luggage is checked in with an airline, the personal belongings within that luggage enter the single greatest period of risk for theft and damage during travel. The BagSentry ruggedized sensor and an easy to use mobile app for managing trips power this low cost travel protection technology.
Customers receive a concise PDF report after each of their trips that can be used to confirm if their luggage was mishandled. If it was, they can submit the report along with uploaded photos to the airlines as evidence of damage or theft for a claim.
Each sensor purchased by a customer comes pre-loaded with several trip reports so that travelers can immediately begin to protect their luggage on their next trip. The solution is easy to use right out of the box, with a few simple steps to pair and activate the sensor prior to placing it into luggage.
BagSentry then provides travelers with the following:

Measurements - Temperature, shock, light, humidity, tilt and pressure
Collection - Every measurement in and out of range, every 5 minutes
Storage - Every measurement in a historical context
Analysis - Our service takes this data and paints your flight story
Identification - See key events like bag opening, bag drops / shocks, temperature alerts, etc.
Reporting - A nice clean report is sent to you for review
Claim Assistance - If mishandling is found, users can submit the report as part of a claim to the airlines
BagSentry is perfect for the business traveler, jet-setter or vacationing family who is looking to ensure that valuables within checked luggage are not mishandled or removed. BagSentry can accommodate multiple sensors to be associated with different luggage checked at the same time. BagSentry can also be used with other items checked with the airlines, such as golf clubs, surfboards, pets or other precious cargo that are sensitive to baggage handling abuse.
BagSentry was created by the supply chain intelligence start-up CargoSense. More information can be found at bagsentry.com. CargoSense is a smart-data and MicroAnalytics Software-as-a-Service (SaaS) company founded to create solutions that optimize logistics networks – in healthcare, food, medical devices and other industries with complex supply chains.