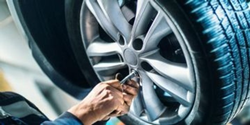 MARS, Pa. (PRWEB) July 21, 2020
There are a number of service specials available at the Baierl Toyota dealership during the month of July. In total, the dealership's service center currently has 20 service specials available for customers to explore. Of the 20 service specials available, 17 of them are set to expire by July 31st. These service specials offer discounts off services ranging from oil changes, battery replacements and wheel alignments.
There are currently three wheel-related service specials available in the Baierl Toyota service center this month. One of these specials allows customers to have all four of their tires filled with nitrogen for the reasonable price of $55.00. The other two wheel-related specials focus on alignment services. One special offers a complimentary alignment check, while the other special offers $20 off the purchase of a set of four tires and a four-wheel alignment service.
The July Service Specials available at Baierl Toyota also include two battery-related services as well. Customers can get a free battery check this month along with a TrueStart Battery Replacement for only $159.95. This service includes the battery purchase and the cost of the replacement service itself. The service specials available this month also include a synthetic lube, oil and filter change for $69.95 and $10.00 discount off any brake services.
Customers can learn more about the Baierl Toyota July Service Specials by contacting the dealership staff directly. More information about the dealership's services and available discounts can be found by visiting the dealership website at http://www.baierltoyota.com. Customers can also reach the dealership by phone at 878-332-7116 or by visiting the dealership in person at 19045 Perry Highway in Mars, Pennsylvania.