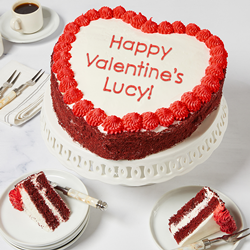 Valentine's Day is the perfect time to send a sweet message of love to brighten someone's day!
NEW YORK (PRWEB) February 02, 2021
BakeMeAWish.com, the leading national online gourmet gifting company has created the first-ever gourmet, heart cake delivery just in time for Valentine's Day. The delectable, heart-shaped confection comes in a ten-inch size and a seven-inch size. The ten-inch cake can be personalized to make that special someone feel extra loved this Valentine's Day while the seven-inch cake will include the popular Valentine's message, "Be Mine!"
Bake Me A Wish! also announces their new delicious and divinely crafted gourmet collection for Valentine's Day 2021. The Valentine's Day lineup from Bake Me A Wish! features romantic favorites such as mini and JUMBO decorative Valentine's Day cupcakes, Solid Gold bakery towers filled to the brim with mouthwatering gourmet treats, and new confections including:
● Cupid's Crate
● Valentine's Heart-Shaped Cookie Tin
● JUMBO Valentine's Day Cupcakes
● Be Mine Heart-Shaped Chocolate Cake
● Personalized 10-inch Heart-Shaped Red Velvet Chocolate Cake
● Mini Valentine's Day Cupcakes
● Solid Gold Valentine's Day Tower
● The Valentine's Day Basket
● Boutique Valentine's Tower
"Valentine's Day is the perfect time to send a sweet message of love to brighten someone's gray, winter day!" said Joseph Dornoff, President of Bake Me A Wish! "It isn't just for couples and lovers. It's a great opportunity to let someone special in your life know you're thinking about them."
While we may not be able to celebrate Valentine's Day with our loved ones this year, receiving a gourmet bakery gift with overnight delivery from BakeMeAWish.com is a unique and heartfelt way to give your special someone a fresh-baked hug with love. Bake Me A Wish! offers guaranteed next day delivery.
To order a gourmet bakery gift for family and friends for Valentine's Day please visit http://www.bakemeawish.com.
On social media, visit @BakeMeAWish
Hashtags: #bakemeawish
About Bake Me A Wish!
Bake Me A Wish! was founded in 2005 with the mission to deliver divinely crafted birthday cakes and gourmet baked goods to anyone across the United States, wherever they are. BakeMeAWish.com features delicious gourmet dessert options including sumptuous recipes, personalized greeting cards and elegant packaging. 15 years later, Bake Me A Wish! offers a magnificent lineup of other mouthwatering bakery treats including cookies, brownies, cupcakes, and pies. They have expanded their offering even further with gorgeous snack and fruit baskets. Bake Me A Wish! has become the go-to source for people in need of high-quality baked goods, and is excited to help make your gifting dreams come true. Bake Me A Wish! is located in New York, New York and delivers throughout the country.