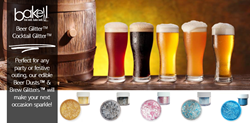 We can't keep our new edible Beer Dust™, Brew Glitter™ & Cocktail Glitter™ stocked, they are that poplar & fun... From breweries to bars, from event party planners to wine makers, everyone is wanting to use our new edible glitters, they just look awesome!
REDLANDS, Calif. (PRWEB) October 04, 2018
"Bakell is a decorating & baking supplies company that specializes in creating and selling fun, decorative tools & products, from silicone molds to custom decorative stencils! But we wanted to create & sell something different than just our traditional edible luster dusts & edible glitters used primarily for decorating cakes, cake pops & cupcakes… we wanted to create a product that could be used in liquids that wouldn't dissolve, was tasteless, was edible & most importantly would add glimmer & pizzazz to our customers' parties," said Justin Jordan, CEO & co founder of Bakell.com.
Bakell's new edible Beer Dust™, Brew Glitter™ & Cocktail Glitter™ is tasteless so it won't change the flavor of your beer, cocktail or beverage, it's edible, using only FDA-approved ingredients, and best of all it won't dissolve! Our edible glitters come in a range of colors from gold to pink and from silver to blue, so our customers can get the color they need for their next event. Beyond just beer & cocktails, our customers are using our edible glitters in cold teas, dressing up coffee lattes using the glitter as an edible garnish or using the glitters & dusts for their personal parties by choosing a specific color that matches a party theme. Bakell's new Beer Dust™, Brew Glitter™ & Cocktail Glitter™ comes in the standard 4g jar sizes, but Bakell.com also sells them in bulk sizes of 25g, 50g or 75g jars sizes at a discounted rate.
Justin Jordan went on to explain, "We can't keep our new edible Beer Dust™, Brew Glitter™ & Cocktail Glitter™ stocked, they are that popular & fun! New customers and existing customers want to try different colors in different cocktails & beers! From breweries to bars, from event party planners to wine makers, everyone is wanting to use our new edible glitters, they just look awesome!"
About Bakell LLC:
Located in Redlands, CA, Bakell.com. is a privately-owned and operated business with a national presence; its products are sold online across America and in Canada. Bakell.com is the #1 online destination for edible dusts & edible glitters, boutique cake decorating supplies and custom baking tools. From cake decorating tools, lusters dusts & cupcake wrappers to silicone molds, custom food grade stencils & cookie cutters, Bakell is the leading choice for professional cake artists & DIY crafters. For more information please visit http://www.bakell.com