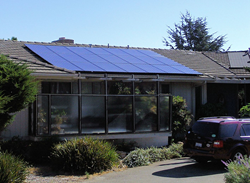 "At Baker Electric Solar we 'walk the walk.' We've invested in creating our own solar energy. Our 30,000 square foot corporate offices in Escondido have a rooftop 85.68 kW (DC) solar system," said President Mike Teresso.
Escondido, Calif. (PRWEB) May 08, 2014
Baker Electric Solar, a Southern California solar company specializing in San Diego solar installations, held its fourth complimentary residential solar open house of the year on Saturday, May 3, 2014. The Escondido homeowner was none other than Baker Electric's Director of Controls Group, Scott Thorn. Visitors to the live 6.87 kW residential solar system open house gained valuable information about how a solar electric system works. They also viewed actual electric bills documenting the Thorn's $880 utility savings over the last year.
The Thorn's rooftop-mounted 6.87 kW solar system consists of 21 SunPower 327 watt solar panels and one SPR-6000m inverter -- with a PV surface area of approximately 300 square feet. Factoring in SDG&E rate increases and locked-in low energy rate savings, the Thorn family is on track to save an estimated $42,000 over 20 years. In addition, over the first two decades of the life of the system, its environmental benefits will reduce CO2 emissions by 248,483 lbs. or the equivalent of not driving a car 298,179 miles.
Escondido's desert climate averages 266 sunny days, making it an ideal location for residential solar installations. The family recognized immediate solar savings with a zero down, low fixed monthly payment lease option. The system has eliminated close to 97 percent of their monthly electric bill. For example with the Thorn's system, their solar production offset a typical electric bill $185, leaving them with a remaining electric bill of $6. In a postcard invitation that went out to the local community prior to the event, people were encouraged to bring their electric bills so that an onsite Baker Electric Solar energy consultant could estimate the monthly savings a solar system would provide them.
In addition, all visitors were entered into Baker's June 15 drawing for an iPad mini. iPad, iPhone, iPod and Android devices provide mobile access to free monitoring of a homeowner's solar system.
"At Baker Electric and Baker Electric Solar we 'walk the walk.' We've invested in creating our own solar energy. Our 30,000 square foot corporate offices in Escondido have a rooftop 85.68 kW (DC) solar system that to date has generated over a half million kilowatt hours of energy – that's enough to power 58 average homes for a year," said Baker Electric Solar President Mike Teresso. "In addition, just as Scott Thorn's family has gone solar, so have over a dozen Baker employees. We know the value for our customers as well as ourselves!"
As a Baker Electric Inc. family company, Baker Electric Solar, has the 75-year history, backing and diversification of an experienced electrical contractor founded in 1938. Offering sun-powered solutions since 2003, the companies have helped more than 2000 San Diego County residents use the sun to save on their electric bills.
For more information about the next solar open house on Saturday, May 17 in the San Diego neighborhood of Scripps Ranch, call Baker Electric Solar at (877) 543-8765.
About Baker Electric Solar
Escondido-based Baker Electric Solar, designs, builds and installs photovoltaic solar power systems for new and existing homes and commercial facilities across Southern California. Baker Electric Solar offers multiple financing options including: HERO financing, zero interest financing to purchase and a zero-down, fixed monthly payment lease. Baker Electric Solar is a BBB accredited business with an A+ rating. The Escondido solar company was named one of North County's largest organizations by the San Diego Business Journal. It also earned the 2013 Angie's List Super Service Award and was named one of Solar Power World's 2013 Top 250 Solar Contractors in the nation. Baker Electric Solar is San Diego's first SunPower Elite Dealer. For more information, visit http://www.bakerelectricsolar.com.