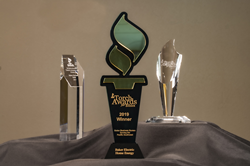 "To us, the Torch Award represents validation of our on-going commitment to bring the highest standards of business to every one of our 12,000+ customers, empowering our employees for success and giving back to the community." - Mike Teresso
SAN DIEGO, Calif. (PRWEB) October 22, 2019
San Diego-based Baker Electric Home Energy is pleased to announce it's won the 2019 Better Business Bureau (BBB) Torch Award for Ethics Pacific Southwest. This is Baker's third time receiving the BBB's highest honor and its fifth time as a finalist. Baker also won the BBB International Torch Award for Ethics in 2017. Submissions for this year's award in the 151+ Employee Category came from San Diego and Orange Counties. The 22nd Annual Torch Awards for Ethics Luncheon Ceremony was held on October 9th at the Hyatt Regency La Jolla in San Diego, California.
The Torch Awards for Ethics honors companies whose leaders demonstrate a high level of personal character and ensure their organization's business practices meet the highest standards of ethics. These companies demonstrate the traits and values required to generate a high level of trust among their employees, customers and communities. Recognition of these exceptional levels of business standards is epitomized by the annual Torch Awards for Ethics winners and the BBB's continuing mission to advance marketplace trust.
"We're extremely honored the BBB has again recognized Baker with the Torch Award for Ethics. The Baker Way™ approach to business exemplifies the highest levels of ethics, trust and integrity and has been the guiding principle behind the Baker Electric family of companies for more than 80 years," said President Mike Teresso. "To us, the Torch Award represents validation of our on-going commitment to bring the highest standards of business to every one of our 12,000+ customers, empowering our employees for success and giving back to the community."
Each company that submitted for the 2019 Torch Award was required to address six ethics categories including Transformation at the Top; Communications of Ethical Practices; Leadership Practices to Unify the Organization; Organizational Commitment to Performance Management Practices; Organizational Commitment to Ethical Human Resource Practices; and Organizational Commitment to the Community. The four winners and ten finalists were chosen by an independent panel of respected San Diego business leaders.
The Baker Electric Home Energy 136-page entry document details the company's commitment to an exceptional set of standards communicated to and implemented by its employees. The document describes real examples of the company's core values "in action" as well as its vision and mission. The entry also includes verifiable evidence of how Baker's strict code of business ethics benefit its employees, customers, suppliers, partners and the local community.
For more information, visit https://www.bakerhomeenergy.com.
About Baker Electric Home Energy
Built on over 80 years of electrical contracting expertise, San Diego-based Baker Electric Home Energy has provided home energy solutions to more than 12,000 Southern California homeowners. Known for exemplary customer service and business ethics, Baker designs, engineers and installs solar power systems and home batteries for residences across Southern California. Additionally, the company provides full heating and air conditioning services and smart home solutions.
The company is a BBB accredited business with an A+ rating and has been the winner (2016, 2017,2019) or finalist (2015, 2016, 2017, 2018, 2019) for the BBB Torch Award for Ethics in the 151+ Employee Category. In addition to the regional award, Baker received the BBB's coveted International Torch Award in 2017. Baker has also been ranked by the San Diego Business Journal as its No. 31 Fastest-Growing Private Company and is a four-time winner of the Angie's List Super Service Award.
About Better Business Bureau Serving the Pacific Southwest
For more than 100 years, Better Business Bureau (BBB) has been helping people find businesses and charities they can trust. Every year, people turn to BBB for information, business profiles, customer reviews and charity reports - all free and available to the public at bbb.org. Incorporated locally in 1938, BBB Serving the Pacific Southwest (BBBPacSW) merged on April 1, 2018 and have campuses in Maricopa, San Diego, Orange, Yavapai, Yuma and Mohave counties. BBBPacSW is supported by over 19,000 BBB Accredited Businesses, making it one of the largest BBB's nationwide. Businesses that earn BBB Accreditation contractually agree and adhere to high standards of ethical business practices in the marketplace. BBB provides objective expertise and educational programs on topics affecting marketplace trust.