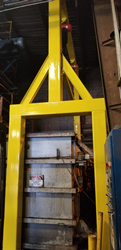 The customer had two existing quench tanks: one hot and one cold water. Having only two tanks hindered quenching, being that it takes 6 hours to heat or cool the tank. Adding the third, allows the customer to run two more loads per day, which is critical for a commercial heater. Sergio Luevano, GM
BREA, Calif. (PRWEB) July 09, 2019
Baker Furnace, a division of Thermal Product Solutions, announced the installation of a quench tank for a supplier in the heat treatment industry as part of their aftermarket services. The customer had two quench tanks and three drop bottom furnaces and needed the third quench tank in order to optimize quench loads per day.
The quench tank has three impellers capable of 27,000 GM on a 15,000-gallon tank. This style of agitation allows for thick, large castings to dissipate heat faster. The system runs on VFD's, which allows for cost savings and the ability to adjust as needed when less agitation is required.
"The customer had two existing quench tanks: one hot water and one cold water. Having only two tanks hindered quenching on all three drop bottoms, being that it takes 6 hours to heat or cool the tank. Adding the third, dedicated cool water tank, allows the customer to run two more loads per day, which is critical for a commercial heater." – Sergio Luevano, General Manager
Baker Furnace took on all parts of the project, including the civil engineering, city permitting, and installation. During the installation, three crane rail tracks were extended. To do so, Baker Furnace had to break the concrete, reinforce the concrete to accept the crane rail, and reinstall the crane rail. There was limited space in the facility for the third quench tank; the hoist required a 24' height and the building was 24'3". With limited space and a low-profile quench tank design, the system was able to be installed.
Unique features of this hoist tank include:

Impellers
VFD on each impeller
Wireless remote to operate crane and quench tank
Baker Furnace provides a wide range of aftermarket parts and services for industrial ovens, furnaces, and pollution control equipment. Aftermarket services include industrial oven and furnace replacement parts, oven/furnace repair services, a variety of installation services, calibration services for temperature controls and recording instruments, and more.
About Baker Furnace
Baker Furnace, Inc. has been designing, engineering, and manufacturing industrial ovens, pollution control equipment and other heating equipment since 1980. Their custom and standard equipment are used for a multitude of applications including heat treating, finishing, drying, and curing. Many of the industries they serve require specific temperature uniformity and equipment performance documentation. Their experienced engineering team can meet even the most stringent standards for their customers' equipment. For more information visit http://www.bakerfurnace.com.
Baker Furnace is owned by Thermal Product Solutions ("TPS"), a leading American manufacturer of custom industrial ovens used for heat treating, finishing, drying, curing, manufacturing automation and process control. TPS is a global leader in thermal processing products and test solutions with brands including Blue M, Gruenberg, Tenney, Lindberg, MPH and Wisconsin Oven. For more information on equipment solutions from TPS visit the website at http://www.thermalproductsolutions.com.