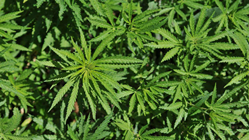 Portable Hemp Drying Equipment is Economical for Small or Medium Growers in this Rapidly Growing Industry
WATERTOWN, Wis. (PRWEB) April 30, 2019
Baker-Rullman's portable, bulk drying equipment program is a significant advancement for hemp growers throughout the United States and Canada. Bulk hemp drying equipment is typically stationery which makes it impractical for many small or medium growers and cooperatives. The capital investment is large, and the plant may not necessarily be accessible to all co-op members. Portable bulk hemp dryers are an ideal solution since they can be moved from one location to another at harvest time. In addition, rental agreements can eliminate most capital investment.
Baker-Rullman's portable hemp dryers are available in five (5) different sizes which can dry an acre of product in as little as 10 minutes or as much as 6 hours. Its triple pass dryer design protects product from under or over-drying and loss of CBD. Heavier, wetter product moves slower than finer, dryer product, providing uniform drying to all material. That's why our rotary dryers have long been known for protecting ingredient integrity, and thereby their market value.
With the rental program, eliminating initial capital costs is a major attraction daily, weekly, and monthly lease rates are available. And the rental program includes a rent-to-purchase agreement that offers a partial discount of rental payments in equipment price if a renter decides to purchase dryer equipment.
Available for use "when and where you need it" is another part of the program that makes it so attractive: Baker-Rullman will deliver the equipment to any designated location on a customer requested schedule. Typical operating costs for these portable hemp dryer rentals are between $20.00 and $30.00 per hour for smaller units, and up to $200.00 per hour for fuel and power.
Established in 1980, Baker-Rullman Manufacturing, Inc. is a leader in engineering, design, and fabrication of rotary drum dryers, modular steel bins and hoppers, structural steel, feed and seed mill systems, and related custom metalwork. Hundreds of Baker-Rullman industrial dehydration systems are installed on six continents and nearly every US state – their technology sets the bar for reliability in the industry. Their 50 years of experience ensures each project is done on-time and under-budget.