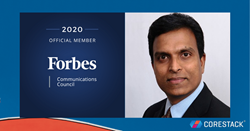 I'm thrilled to join other like-minded professionals on the Forbes Council and honored that Forbes has accepted me into the program. I look forward to contributing to the community and to help companies through their journey of growth, applying the experiences of helping CoreStack grow rapidly
SEATTLE (PRWEB) October 14, 2020
Bala Vishwanath, Chief Marketing Officer of CoreStack, has been accepted into Forbes Communications Council, an invitation-only community for executives in communications, marketing, and public relations. CoreStack, a multi-cloud governance solution, empowers enterprises to rapidly achieve Continuous and Autonomous Cloud Governance at Scale.
Bala Vishwanath was vetted and selected by a review committee based on the depth and diversity of growth and go-to-market experience. Criteria for acceptance include a track record of successfully impacting business growth metrics, as well as personal and professional achievements and honors.
"We are honored to welcome Bala Vishwanath into the community," said Scott Gerber, founder of Forbes Councils, the collective that includes Forbes Communications Council. "Our mission with Forbes Councils is to bring together proven leaders from every industry, creating a curated, social capital-driven network that helps every member grow professionally and make an even greater impact on the business world."
As an accepted member of the Council, Bala has access to a variety of exclusive opportunities designed to help him reach peak professional influence. He will connect and collaborate with other respected local leaders in a private forum. Bala will also be invited to work with a professional editorial team to share his expert insights in original business articles on Forbes.com, and to contribute to published Q&A panels alongside other experts.
"I join other members of CoreStack in congratulating Bala on his acceptance into the Forbes Council," said Ezhilarasan Natarajan, CEO of CoreStack. "Bala's addition follows the acceptance of our Chief Technology Officer, Sabapathy Arumugam into the Forbes Technology Council, and is an honor and recognition of the growth of CoreStack and the experience of our team members in being able to add value to the community."
Finally, Bala will benefit from exclusive access to vetted business service partners, membership-branded marketing collateral, and the high-touch support of the Forbes Councils member concierge team.
"I'm thrilled to join other like-minded professionals and leaders on the Forbes Council and honored that Forbes has accepted me into the program," said Bala Vishwanath. "I look forward to contributing to the community and to help companies through their journey of growth, applying the experiences of helping CoreStack grow rapidly."
ABOUT FORBES COUNCILS
Forbes Councils is a collective of invitation-only communities created in partnership with Forbes and the expert community builders who founded Young Entrepreneur Council (YEC). In Forbes Councils, exceptional business owners and leaders come together with the people and resources that can help them thrive. For more information about Forbes Communications Council, visit forbescommcouncil.com. To learn more about Forbes Councils, visit forbescouncils.com.
ABOUT BALA VISHWANATH
Bala is the Chief Marketing Officer at CoreStack. He's also an aspiring author of Journey of Growth, where he intends to detail a systematic framework for taking products to market, finding product-market & go-to-market fit and scaling for growth. Bala has successfully led two venture-backed companies from startup through exit as founding CEO, raised venture financing from world-class VCs, and closed enterprise sales with Fortune 100 companies worldwide. As a key initiative at one of his startups, he championed the move of Electronic Design Automation (EDA) to the Cloud. He has also consulted for multiple global businesses, spanning a variety of industries and multiple business models including B2C, B2B, B2B2C and Marketplaces. Bala has crafted go-to-market strategic plans and personally implemented integrated marketing campaigns for businesses and venture-backed portfolio companies ranging from fresh startups to unicorns. Bala has 20+ years of hands-on experience in product-market fit, go-to-market fit, growth funnels, positioning, branding, digital marketing, customer advocacy, marketing automation and account-based growth. He has personally executed profitable campaigns managing millions of dollars in budgets across all major social channels. He is experienced in conversational marketing, growth hacking and search, social media, video, product, influencer marketing. Bala has headed global teams focused on sales, marketing and customer success. He is fanatical about life-time value, retention, on-boarding, attribution, business flywheel, consistent experimentation, transformational messaging, empirical learning, repeatable processes and scalable systems. Bala is passionate about business models where automation meets artificial intelligence, experiential marketing and data science. To connect with Bala, visit https://www.linkedin.com/in/balavishwanath
ABOUT CORESTACK
CoreStack, an AI-powered multi-cloud governance solution, empowers enterprises to rapidly achieve Continuous and Autonomous Cloud Governance at Scale. CoreStack enables enterprises to realize outcomes such as 40% decrease in cloud costs and 50% increase in operational efficiencies by governing operations, security, cost, access, and resources. CoreStack also assures 100% compliance with standards such as ISO, FedRAMP, NIST, HIPAA, PCI-DSS, AWS CIS & Well Architected Framework (WAF). Enterprises face significant cloud challenges including unpredictable and unabated cloud costs, ever growing security risks, stringent regulatory compliance needs and operational complexities as they navigate the digital transformation journey. CoreStack helps enterprises overcome these challenges by offering deeper cloud visibility, preventative governance guardrails, and automatic remediation. With a unique Cloud-as-Code approach that uses deep AI/ML, declarative definitions, connector-less model and a patented cloud service-chaining technology, CoreStack continually innovates to harness the real power of cloud. CoreStack works with many large global customers across multiple industries including Financial Services, Healthcare, Retail, Education, Telecommunications, Technology and Government. The company is backed by venture investors including Dallas Venture Partners (DVP), Z5 Capital and Start Smart Labs. CoreStack was recognized as IDC Innovator in Cloud Management Solutions and in the Gartner Magic quadrant for Cloud Management Platforms in 2020. Earlier in 2019, Gartner named CoreStack as a Cool Vendor in Cloud Computing. CoreStack is a Microsoft Azure Gold & Co-Sell Partner and Amazon AWS Advanced Technology Partner. To Learn more about CoreStack, visit https://www.corestack.io