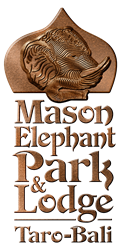 Bali, Indonesia (PRWEB) January 12, 2020
The Mason Elephant Park & Lodge of the Indonesian island of Bali was incredibly proud to be the first elephant park in Asia to be officially awarded Gold Certification from Asian Captive Elephants Standards. This accreditation comes in the wake of reports from animal welfare activists which have criticized Bali for negligence and mistreatment towards animals across the island.
Initiated in 1997, the Mason Elephant Park & Lodge was founded by the Mason family in response to the devastating situation in Sumatra where rampant deforestation and poaching have dwindled the native elephant population. Since then, the park has rescued a total of 27 displaced critically-endangered elephants from the dismal conditions in their native homeland to bring them to a new place to call home in Bali. A natural breeding program was created and saw the birth of the first "Balinese" baby elephant in 2009, and several more over the years which has expanded the park to a healthy herd of 32 elephants in total.
The park receives no donations or support from local or government entities and is completely self-reliant on looking after these placid pachyderms. In order to help support them, the park provides visiting guests with the rare opportunity to get up close, interact, and learn all they can about these gentle giants.
Asian Captive Elephants Standards (ACES) is an independent animal welfare enterprise providing elephant camps with the methodology, guidance, and on-site support to ensure all captive elephants are receiving the highest level of welfare possible through a rigorous assessment and audit process conducted by an experienced and dedicated team of elephant specialists, veterinarians, researchers, and conservationists.
ACES assess elephant camps throughout Southeast Asia to provide the highest level of elephant welfare for all elephants working in the tourism industry, where elephant camps must meet all 119 mandatory criteria to pass, and complete further standards for higher validation. ACES scrutinises all areas of camp management including elephant shelters, diet, veterinary care, socialization, feeding, riding, physical and mental enrichment, staff training and entitlements and many other facets of camp care.
Over the last 2 years, the Mason Elephant Park & Lodge has worked closely together with ACES by fulfilling 100% of the initiative's mandatory criteria and over 90% of the strict advanced criteria to further develop all aspects of the park for the elephants, staff, and guests alike to continue to uphold a sustainable future for the critically-endangered Sumatran elephant.
"This is a big step in the right direction," said park founder, Nigel Mason, who first started to rescue displaced critically-endangered Sumatran elephants in 1997. "Sadly there are still too many elephant camps across Asia that mistreat and brutalize the elephants supposedly under their care, and consequently this has set a false precedent that generalizes all elephant parks to be the same and inhumane."
The official handing-over event which hosted the official handing over of the certification also presented an opportunity for the park to showcase all the new additions and modifications, and was attended by numerous prominent figures from Bali's tourism, environmental, and media industry as the event was not only a milestone first for the island of Bali, but for Asia as well.
The Director of ACES, Nicolas Dubrocard stated that "The Mason Elephant Park & Lodge is an exceptional example of elephant-based tourism. All elephants are well socialized, provided with strong enrichment opportunities and receive the best veterinary and nutritional care available. We are proud of all the hard work their entire team has invested in their park and elephants, and this accreditation is very much deserved."
The Sumatran elephant is among the world's top 10 most endangered species on the planet, along with the Sumatran rhino, Sumatran tiger, and orangutan. The situation for these creatures in their native homeland continues to exacerbate to the point that Sumatra continues to be reported as the world's fastest-growing deforestation nation on the planet.
Wild Sumatran elephant numbers are currently estimated at less than 800, and at the current rate, it is predicted that this entire population could become extinct within the next 10 years. Wild elephants in Sumatra that aren't poached or killed off by farmers protecting their crops are gathered and placed within local holding camps where sadly it is still commonplace to receive insufficient nourishment, no proper medical care, and where they are reported to be frequently left tethered in the sun for days on end, to the extent where the average life expectancy is only between 2 – 7 years for most.
Although the situation in Sumatra at this stage is direly uncertain, the Mason Elephant Park & Lodge continues to uphold a successful natural breeding program, with a fifth healthy baby born earlier this year in June, further adding to the healthy herd with more expected on the way, to hopefully ensure that this beautiful species still has a future for generations to come.
For more information on the Mason Elephant Park & Lodge, visit masonelephantlodge.com
For more information on Asian Captive Elephant Standards, visit elephantstandards.com
Links:
masonelephantlodge.com
elephantstandards.com
Contact Information:
info@masonelephantlodge.com
+62 361 8988 888
Mason Elephant Park & Lodge, Jl. Elephant Park Taro,
Taro, Tegallalang, Ubud, Bali 80561, Indonesia