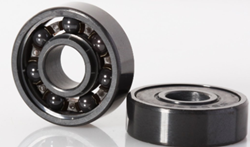 [ACER Racing] bearings are significantly lighter than carbide bearings and produce almost no friction, allowing for the best acceleration and top speed
LOS ANGELES (PRWEB) June 01, 2019
ACER Racing, a leading manufacturer of RC ball bearings, skate bearings, and other products for RC racing and other applications, has launched a complete redesign of its website aimed at an improved user experience, says the firm. The manufacturer adds that it is known as the home of the hardest balls in the industry and it is happy to say that it is now also the home of the coolest and most efficient website in the field. Since it began almost 30 years ago, the firm says that it has been the most respected name in the ball bearings industry. It adds that the new site will make it easier than ever for customers to get the parts they need, with what they describe as the same great value and top quality customer service they have come to expect, but more easily and quickly than ever, he continued.
The firm says that its ceramic ball bearings have been the super smooth and durable face of its field for years, and that culminates with its World Champion Ceramic Nitride Pro Series RC ball bearings. The bearings are significantly lighter than carbide bearings and produce almost no friction, allowing for the best acceleration and top speed, said ACER Racing.
The company is also well known as a manufacturer a variety of other top tier racing products, like their highly popular flexible silicone copper wire, says ACER Racing. It says that its Superworm wiring leads the industry in copper wire, with as many as 1650 strands per wire all wrapped up in a super flexible silicone sheath. With extremely low electrical resistance, racers can expect their RCs to run longer, faster, and with less heat – which means enhanced durability, the company notes. Serious skaters will look to its leading-edge skate bearings, which are made with the same degree of care and craftsmanship as all of its other products, the firm said.
The firm says that it takes making the best balls out there as seriously as its customers take racing and, with the new website, it is convinced that customers will have an easier time than ever getting what they need, when they need it, the firm concluded.
Interested readers can find out more about ACER Racing's RC bearings and other products, like their cycling bearings, by visiting the company's website at https://www.ACERracing.com/.