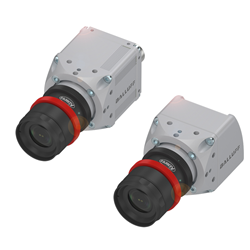 FLORENCE, Ky. (PRWEB) June 07, 2019
These machine vision systems provide flexibility and ease of operation, while extending a manufacturer's vision capabilities in terms of resolution, speed, interfaces, and flexibility. These solutions provide powerful visual quality control, identification, error proofing, traceability, and image processing.
Among their many uses, Balluff machine vision is ideal for:

Optical-based traceability
Verifying automated processes
Vision-guided robotics
Our image processing products can be set up without the need for prior knowledge of these systems. The industrial cameras are available in color and monochrome and four different image resolutions, allowing for great flexibility in installation.
Camera Features:

Available in GigE and USB3
GigE industrialized M12 connector is more robust than common RJ45 connectors
Controller Features:

Standardized industrial network interfaces, such as Ethernet IP, Profinet, TCP/UDP
Flexible for applications with single or multiple cameras
Fast data processing based on the user-friendly BVS Cockpit interface
Learn more at: http://www.balluff.com
About Balluff:
Balluff stands for innovative technology, quality and cross-industry experience in industrial automation. As a leading sensor and automation specialist, Balluff offers a comprehensive portfolio of innovative sensor, identification and network solutions as well as software for integrated system solutions. We give our all to improve the competitive position of our customers by sharing our passion for automation.
Founded in Neuhausen auf den Fildern in 1921, Balluff now employees 3600 workers in distribution, production and development sites around the globe. This guarantees excellent worldwide product availability for our customers, as well as high-quality consulting and service directly on site.