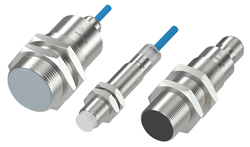 FLORENCE, Ky (PRWEB) February 14, 2020
Balluff's newly expanded inductive portfolio delivers a wide range of intrinsically safe sensors for use in explosion protected areas. Each sensor is approved for all explosive zones and offers reliable detection and position measurement when hazardous materials, such as explosive gas, dust, or flammable liquids, are present.
Designed specifically to meet the demands of applications in hazardous atmospheres, each sensor works on such a low current and voltage that it cannot ignite flammable material present in explosive zones. The sensors, combined with Balluff isolating amplifiers, form an intrinsically safe unit. Compact versions are also available that do not require an additional amplifier while still providing the necessary safety.
"This portfolio offers reliable detection and position in explosion protected areas, which is necessary for manufacturers of oil or gas, or any applications where there is fuel or chemicals. With these new products, we can better serve our customers as they allow us to tackle applications that we couldn't previously," said After-Sales Technical Support Engineer Shawn Day.
Most important features:

Approved for ATEX zones 0, 1, and 2, and zones 20, 21, and 22
Wide range of intrinsically safe sensors from a single source
M12, M18, and M30 form factors
Fast installation and replacement using standardized connections
Learn more at: http://www.balluff.com
About Balluff Inc.
Balluff Inc. is the U.S. subsidiary of Balluff GmbH, Neuhausen, Germany. Balluff is a leading supplier of networked IO-Link control system architectures that unlock the potential of the IIoT and Industry 4.0. Balluff offers a wide range of intelligent IO-Link and industrial Ethernet sensors in a variety of technologies including inductive, photoelectric, capacitive, and magnetic as well as magnetostrictive linear position sensors, magnetic tape linear encoders, industrial RFID systems, and industrial vision systems. Balluff provides cost-saving, process-enhancing solutions to machine builders and manufacturers to control, regulate, automate, assemble, position, and monitor manufacturing, assembly, and packaging sequences. Industries served include: automotive, packaging, food processing, beverages, tire, primary metals, conventional and alternative energy, semiconductor, plastics, and fluid power.