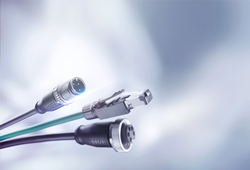 FLORENCE, Ky. (PRWEB) November 22, 2019
Balluff has improved its delivery time of made-to-order cables and connectivity products. Most of the sensor cable portfolio is now available in 5 days or less. This includes nearly all the single- and double-ended M8 and M12 sensor cable portfolio, plus power cables, Ethernet cables, and valve connector cables, as well as field-attachable connectors, bulkhead connectors, receptacles, adapters and terminating resistors, T-splitters and Y-splitters.
The expedited delivery is due, in part, to the establishment of a Florence, Kentucky connectivity cell which allows the company to better meet customers' changing cable needs. Moving production to the Kentucky location, versus shipping all cable products from an overseas Balluff production site, allows the company to provide faster delivery to customers who rely on quick turnaround times to minimize downtime and maximize efficiencies.
"Choosing the right tools is vital to decrease downtime and avoid unnecessary maintenance in all industries; choosing the proper cable can be the lynchpin to a successful application," said Will Healy, Balluff industry marketing director.
Balluff's cable portfolio is tailored to meet a wide variety of industries and applications including welding, stamping, food & beverage, and general automation. The portfolio includes features such as consistent and accurate IP ratings, a wide range of cable jackets (TPE, PVC and PUR), a full range of overmold configurations, and high-quality rugged materials.
For more information on Balluff cables or to place an order, visit https://www.balluff.com/local/us/products/connectivity/.
About Balluff Inc.
Balluff Inc. is the U.S. subsidiary of Balluff GmbH, Neuhausen, Germany. Balluff is a leading supplier of networked IO-Link control system architectures that unlock the potential of the IIoT and Industry 4.0. Balluff offers a wide range of intelligent IO-Link and industrial Ethernet sensors in a variety of technologies including inductive, photoelectric, capacitive, and magnetic as well as magnetostrictive linear position sensors, magnetic tape linear encoders, industrial RFID systems, and industrial vision systems. Balluff provides cost-saving, process-enhancing solutions to machine builders and manufacturers to control, regulate, automate, assemble, position, and monitor manufacturing, assembly, and packaging sequences. Industries served include: automotive, packaging, food processing, beverages, tire, primary metals, conventional and alternative energy, semiconductor, plastics, and fluid power.