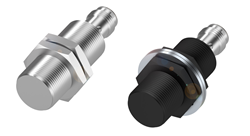 FLORENCE, Ky. (PRWEB) October 26, 2018
To combat the pervasive problem of premature sensor failure in harsh welding and stamping applications, Balluff has expanded its family of rugged steel-faced inductive proximity sensors to include additional models in the popular M18 tubular form factor.
Compared to conventional plastic-faced sensors, the stainless steel sensing face fights failure from impact, abrasion, and erosion while new Factor 1 technology extends the sensing range to 8mm, even when flush-mounted in metal, for additional mechanical protection.
Factor 1 technology allows the sensor to detect both ferrous and non-ferrous materials at the same full range, a boon in cases where sensor de-rating for non-ferrous materials forces a reduction in the distance between sensor and target material, increasing the likelihood of damaging impacts. An important benefit of Balluff's Factor 1 technology is true weld-field immunity, enabling sensor status to be continuously monitored even during a welding cycle.
Application-specific types are available with options such as anti-weld-spatter coating, and ferrous-selective and non-ferrous-selective variants.
All models come with a protection rating of IP68, assuring resistance to liquid ingress even when fully submerged for extended periods of time.
Key features include:

IP68 enclosure rating exceeds IP67 standards for liquid ingress protection
Stainless steel face withstands mechanical impact, abrasion, and weld spatter burn through
Factor 1 technology detects all metals at full range and weld-field immunity
Extended 8mm range of a non-flush sensor in a flush-mount design
Flush-mount design enables embedded mounting in the tooling for impact protection
Available ferrous-selective and non-ferrous-selective versions
Optional improved coating enhances protection against weld-spatter buildup
About Balluff Inc.:
Balluff Inc. is the U.S. subsidiary of Balluff GmbH, Neuhausen, Germany. Balluff is a leading supplier of networked IO-Link control system architectures that unlock the potential of the IIoT and Industry 4.0. Balluff offers a wide range of intelligent IO-Link and industrial Ethernet sensors in a variety of technologies including inductive, photoelectric, capacitive, and magnetic as well as magnetostrictive linear position sensors, magnetic tape linear encoders, industrial RFID systems, and industrial vision systems. Balluff provides cost-saving, process-enhancing solutions to machine builders and manufacturers to control, regulate, automate, assemble, position, and monitor manufacturing, assembly, and packaging sequences. Industries served include: automotive, packaging, food processing, beverages, tire, primary metals, conventional and alternative energy, semiconductor, plastics, and fluid power.