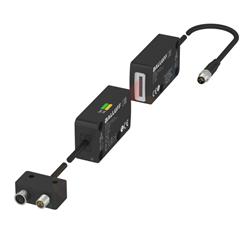 FLORENCE, Ky. (PRWEB) September 27, 2019
Balluff's newest laser light array provides a compact solution for precisely identifying the size and location of objects. The BLA0007 can measure the size of up to six objects in its 16 mm light field, enabling them to operate several work modes at once, including the following:

Object diameter
Object position
Gap width
Gap position
Edge position
Also, they offer additional modes such as counting and nominal/actual comparisons, which users can use simultaneously. If needed, it can be programmed to blank an area, so objects in that part of the array don't trigger the sensor. Additionally, they can measure object height or gap dimensions, monitor hole placement or size, and detect the web edge of material like paper or cloth, including many transparent materials that are optically demanding. They can detect cable, wire, or threads as small as 0.3 mm.
Key features include:

Exact position detection
Simple size differentiation of diameters
Quality inspection gap dimensions
Precise edge detection
Learn more at: http://www.balluff.com
About Balluff Inc.
Balluff Inc. is the U.S. subsidiary of Balluff GmbH, Neuhausen, Germany. Balluff is a leading supplier of networked IO-Link control system architectures that unlock the potential of the IIoT and Industry 4.0. Balluff offers a wide range of intelligent IO-Link and industrial Ethernet sensors in a variety of technologies including inductive, photoelectric, capacitive, and magnetic as well as magnetostrictive linear position sensors, magnetic tape linear encoders, industrial RFID systems, and industrial vision systems. Balluff provides cost-saving, process-enhancing solutions to machine builders and manufacturers to control, regulate, automate, assemble, position, and monitor manufacturing, assembly, and packaging sequences. Industries served include: automotive, packaging, food processing, beverages, tire, primary metals, conventional and alternative energy, semiconductor, plastics, and fluid power.