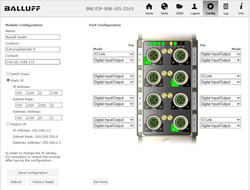 FLORENCE, Ky. (PRWEB) August 03, 2018
Balluff's industry-leading IO-Link master portfolio gets a power boost with enhanced built-in web server functionality that makes it simple to integrate IO-Link devices. The feature-rich web server not only supports IP address configuration and network monitoring but has the ability to configure, parameterize and monitor IO-Link devices, and provide diagnostics information.
The web server uses IODD (IO-Link Device Description) files that come with each IO-Link device to display, edit and update device parameters in human readable language.
"Balluff's web server has had the IO-Link configuration ability for a long time. Prior to the integration of IODD file based configuration in the web server, the process of IO-Link device configuration was painful. Customers would have to find the manuals for the devices, search for the parameter hex codes and hex arguments, and configure each parameter individually or use function blocks and add-on instructions." said Shishir Rege, IO-Link marketing champion with Balluff. "Now with Balluff IO-Link masters, configuring, monitoring and troubleshooting IO-Link devices from any manufacturer is a breeze — it is now truly plug-n-play," he added.
The enhanced web server functionality is readily available with all Balluff IO-Link masters for EtherNet/IP, PROFINET and EtherCAT network protocols. The added capability eliminates the need for separate software or tools for configuring IO-Link devices.
About Balluff Inc.:
Balluff Inc. is the U.S. subsidiary of Balluff GmbH, Neuhausen, Germany. Balluff is a leading supplier of networked IO-Link control system architectures that unlock the potential of the IIoT and Industry 4.0. Balluff offers a wide range of intelligent IO-Link and industrial Ethernet sensors in a variety of technologies including inductive, photoelectric, capacitive, and magnetic as well as magnetostrictive linear position sensors, magnetic tape linear encoders, industrial RFID systems, and industrial vision systems. Balluff provides cost-saving, process-enhancing solutions to machine builders and manufacturers to control, regulate, automate, assemble, position, and monitor manufacturing, assembly, and packaging sequences. Industries served include: automotive, packaging, food processing, beverages, tire, primary metals, conventional and alternative energy, semiconductor, plastics, and fluid power.