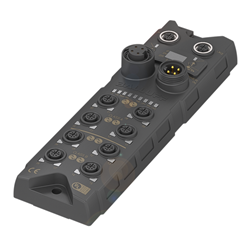 FLORENCE, Ky. (PRWEB) August 30, 2019
This IO-Link master block:

reduces inductive noise using coil choke filters
reduces conductive noise with its fiberglass-reinforced, polyphenylene sulfide (PPS) housing
reduces capacitive noise with its thick profile, which raises the printed circuit board away from the backplane
This master block was designed to protect against electromagnetic interference that can negatively impact work processes. The non-conductive PPS housing does the work of a separate grounding plate. And PPS is also inherently non-stick, so weld spatter slides off it. The BNI00CY IO-Link master block's built-in display allows configuring of network parameters, and its embedded web server allows for remotely configuring the block and connected IO-Link devices.
This master block offers four Class A IO-Link ports and four Class B IO-Link ports.
Key features include:

Filters multiple types of EMI
PPS composite body resists weld spatter
4x Class A, 4x Class B IO-Link master ports
Built-in enhanced web server, and display for configuring network parameters
Up to 9A of output power with 2A per channel
Learn more at: http://www.balluff.com
About Balluff Inc.
Balluff Inc. is the U.S. subsidiary of Balluff GmbH, Neuhausen, Germany. Balluff is a leading supplier of networked IO-Link control system architectures that unlock the potential of the IIoT and Industry 4.0. Balluff offers a wide range of intelligent IO-Link and industrial Ethernet sensors in a variety of technologies including inductive, photoelectric, capacitive, and magnetic as well as magnetostrictive linear position sensors, magnetic tape linear encoders, industrial RFID systems, and industrial vision systems. Balluff provides cost-saving, process-enhancing solutions to machine builders and manufacturers to control, regulate, automate, assemble, position, and monitor manufacturing, assembly, and packaging sequences. Industries served include: automotive, packaging, food processing, beverages, tire, primary metals, conventional and alternative energy, semiconductor, plastics, and fluid power.