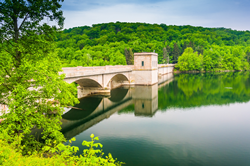 An implementation such as this is a foundational step in an asset management journey.
TOWSON, Md. (PRWEB) September 24, 2020
Baltimore County has gone live with its Cityworks Asset Management System (AMS), implemented by Woolpert. The system supports the county's Department of Public Works and its Utilities group, which includes water and wastewater services.
This implementation followed a strategic asset management assessment and phased approach created for Baltimore County by Woolpert and completed in 2019. The next steps outlined in that plan include an implementation to address the department's Solid Waste group, which supports trash and recycling.
Woolpert Project Manager Zach Valchar said this phased approach is intended to replace the current computerized maintenance management system (CMMS) with Cityworks, enhancing work and asset management for several divisions across the large organization. Woolpert's strategic consulting group provides clients like Baltimore County with strategy and execution: establishing a roadmap to a mature asset management program and then implementing technology solutions to help clients reach their end goal.
"An implementation such as this is a foundational step in an asset management journey," Valchar said. "Many municipalities have work management systems, but to make the most of those systems and integrate asset management best practices, organizations need to be able to collect appropriate data, perform analysis and use those results to make informed decisions on their assets for reactive, preventative and predictive maintenance."
The final months of the implementation and system rollout were conducted remotely due to the COVID-19 pandemic. Valchar said leveraging technology, thinking outside the normal business practices and invoking a high level of engagement from both the county and Woolpert teams supported a successful execution.
"Deploying an enterprise application in a completely virtual environment was a new challenge for this group," Valchar said. "The team worked well together, and Baltimore County had the willingness and capability to move the project forward during this unique situation."
About Woolpert
Woolpert is committed to a vision to become the premier architecture, engineering, geospatial (AEG) and strategic consulting firm, and one of the best companies in the world. It's a vision we've been fine-tuning for decades. It guides our decisions and investments, provides our clients with optimal solutions and offers our employees unrivaled opportunities. Woolpert is recognized as a Great Place to Work by its employees and is America's fastest-growing AEG firm. With more than a century of experience, close to 1,000 employees and 30 offices, Woolpert supports public, private, federal, and U.S. military clients nationally and around the globe. For more information, visit woolpert.com and connect with us on LinkedIn, Twitter, Facebook and Instagram.