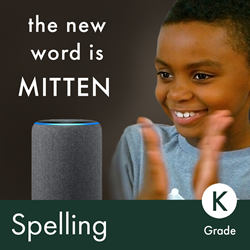 Bamboo English is a fantastic program for my daughter, to help her stay at grade level in Spelling, Grammar, Vocabulary, and more. She enjoys playing the word games so much, she doesn't even realize how much she is learning.
SEATTLE (PRWEB) September 22, 2020
Bamboo Learning, the leading provider of voice-based learning solutions, today announced "Bamboo English", an innovative voice application for children in grades K–5 featuring over 140 English Language Arts (ELA) units and more than 60,000 exercises to use at home. The Bamboo English voice-based curriculum includes learning modules on Phonics, Spelling, Grammar, Vocabulary, and Listening/Reading. The scope and sequence of Bamboo English are designed to support children in grades K–5 in establishing the foundation for a lifetime of improved reading and writing skills.
"Bamboo English is a fantastic program for my daughter, to help her stay at grade level in Spelling, Grammar, Vocabulary, and more," said Michelle K., mother of two, based in Torrington, CT. "She enjoys playing the word games so much, she doesn't even realize how much she is learning, but I can see her progress in each area every week using the Bamboo Grove parent dashboard."
"When schools closed in the Spring, we heard from many parents that Bamboo Learning products were helping their children practice math and reading comprehension. The children could work independently, without requiring parents to sit next to their children during learning sessions," said Irina Fine, Bamboo Learning's Co-Founder and Head of Content. "We've taken the best of our award-winning products, and added over 140 ELA grade-leveled units with over 60,000 unique exercises to offer a comprehensive, easy-to-use curriculum for children learning from home again this Fall."
Children are able to use Bamboo English without any installation or configuration. Bamboo English automatically adjusts the level of difficulty to ensure children can learn at their own pace. Additionally, parents have the option to review their children's progress using the Bamboo Grove web-based parent dashboard.
To get started, parents or children can simply say "Alexa, open Bamboo English" or learn more at the Bamboo Learning web site at http://www.bamboolearning.com.
HOW BAMBOO ENGLISH WORKS
Families can get started by simply saying "Alexa, open Bamboo English" to their Alexa device. Bamboo English asks how many people in the family (up to 6) would like to use Bamboo English, and sets up an animal avatar, complete with animal sounds, for each user. Children or parents set an initial grade level for each child as a starting point. Children then move through units of word games, following the ELA scope and sequence used by tens of thousands of K–5 schools throughout the U.S.
Example questions include:

Phonics – "I held a lot of sand in my hand. Which words rhyme?" (Kindergarten question)
Spelling – "In the word WOULD, take out W and put in C. What word do you get?" (1st Grade question)
Grammar – "This rock is heavy. Which word is an adjective?" (2nd Grade question)
Vocabulary – "Is the correct definition of the word CONVEY – (A) to communicate an idea, or (B) to argue?" (3rd Grade question)
If a child answers correctly, they receive praise. If a child answers incorrectly, Bamboo English encourages them to try again. If the child answers incorrectly a second time, Bamboo English can offer a quick lesson explaining the exercise. Additionally, a child may ask for a hint at any time.
Each grade level has its own tree-theme – for example, Kindergarten has a Banana Tree classroom theme, 1st Grade has a Coconut Tree classroom theme, etc. As children progress through the word games, Bamboo English explains that they are climbing Ladders (Units) to get to the top of different Trees (Grade Levels). There are six Units (or Ladders) per Module (Phonics, Spelling, Grammar, Vocabulary) in each Grade (Tree), with each unit representing approximately 2 to 4 weeks of content. For example, a child working on the 1st Unit of Vocabulary in Kindergarten is "climbing the 1st Vocabulary Ladder on the Banana Tree." Similarly, a child working on the 3rd Unit of Spelling in 1st Grade is "climbing the 3rd Spelling Ladder on the Coconut Tree."
Bamboo English provides free access to the first unit of each module (Phonics, Spelling, Grammar, and Vocabulary) for each K–5 grade, representing approximately 15% of the content. Access to the full Bamboo English K–5 ELA program, including over 140 units across Grades K–5, costs $5.99/month per family, for up to six users per family. The Bamboo English K–5 ELA program can be purchased within Bamboo English by using the simple voice command, "Subscribe".
In addition to word games, Bamboo English includes dozens of books leveled for each grade. Children can listen to stories, and practice listening and reading comprehension. Examples include:

Classic Fairy Tales such as: The Elves and the Shoemaker, The Hare and the Tortoise, The Emperor's New Clothes
Well-known Short Stories such as: Little Red Riding Hood, Cinderella, and The Elephant's Child
Selections from longer works such as: Aladdin, Peter Pan, and Wonderful Wizard of Oz
Highlights for Children Readers such as: The Lucky Penny, The Skeleton Crew, and Balto The Sled Dog
"The new Bamboo English voice application, like our earlier award-winning products, requires no set-up, no passwords, and no keyboards," said Ian Freed, Co-Founder and CEO of Bamboo Learning. "We have also added important multiuser support to Bamboo English, so each child can start at a different grade level, and move individually at their own pace throughout the school year. As always, parents can track their children's progress using the optional Bamboo Grove."
HOW BAMBOO GROVE WORKS
Bamboo Grove is an optional parent dashboard for reviewing children's progress in Bamboo English, and is available on the web at http://www.bamboolearning.com/grove. Parents can view their children's current and historical progress, including their Grade Level and Unit for each module (Phonics, Spelling, Grammar, Vocabulary). In the future, Bamboo Grove for Bamboo English will also include details about each question answered.
"EVERYONE LEARNS" PROGRAM FOR FAMILIES IN NEED
To help address the multitude of challenges families are facing as a result of the pandemic, Bamboo Learning has set up the Everyone Learns program, to offer full subscription access to Bamboo English free of charge to families in need. Bamboo Learning is working with Oakland-based Philanthropic Ventures Foundation (PVF) for Everyone Learns. PVF has selected the Everyone Learns program to be a part of their Voice-Based Education Initiative (VBEI) solution along with contributions from philanthropy, in-kind contributions from industry, and identification of partner organizations and families in need. To launch the Everyone Learns program, Bamboo Learning is donating 100 Amazon Echo Dots to PVF's Voice-Based Education Initiative for distribution to eligible families.
Additionally, the Seattle-based Technology Access Foundation (TAF) has already been selected to pilot Bamboo English through the Everyone Learns program. TAF's mission is to build collaborative relationships with public education, to create access to transformative systems of learning for students and teachers of color, and to eliminate race-based disparities in an increasingly diverse society. TAF partners with several K–5 public schools serving diverse student populations in Washington state.
"We are very excited to work with Philanthropic Ventures Foundation and to pilot Bamboo Learning's Everyone Learns program that offers families in need a great way to help children develop essential skills while having fun," said Trish Dziko, Co-Founder and Executive Director of TAF. "With the pandemic requiring families across the country to provide schooling at home, this program allows children to benefit from Bamboo Learning's fun, voice-based learning tools, and offers parents a much-needed break to focus on other tasks while their children are learning."
To learn more about Philanthropic Ventures Foundation's Voice-Based Education Initiative, including how to make philanthropic contributions, please visit https://www.venturesfoundation.org/programs/community-initiatives/voice-based-learning/
About Bamboo Learning
Based in Seattle, Bamboo Learning is the award-winning leader in voice-powered education with a mission to bring engaging, high-quality learning experiences to customers around the world. Bamboo Learning develops applications for Alexa and Google Assistant that enable families, teens, and adults to have fun learning and practicing different academic and afterschool subjects while listening, viewing images, and using their voice. Bamboo Learning applications, including Bamboo English, Bamboo Math, Bamboo Books, Highlights Storybooks from Bamboo, Bamboo Luminaries, and Bamboo Music, offer a range of challenging and engaging exercises to help customers master different levels of subjects. Customers can sign up for a Bamboo Grove account to follow their progress in Bamboo Learning voice applications.
Bamboo Learning's co-founders are Ian Freed, CEO, and Irina Fine, COO and Head of Content. Ian Freed is a thirty-year veteran of the technology industry, including twelve years at Amazon, having served as vice president of Amazon devices, where he led both the Amazon Echo & Alexa and the Amazon Kindle businesses, and served as technical advisor to Amazon founder and CEO, Jeff Bezos. Irina Fine is a thirty-year veteran of curriculum development and teaching, having worked in public and private sectors of education in New York, Washington DC, London, and Moscow, after receiving her M.Ed. in Curriculum Development and an undergraduate degree in Piano Performance and Music Education.
Connect with Bamboo Learning, and learn more at: http://www.bamboolearning.com, Instagram: @learnwithbamboo, Twitter: @learnwithbamboo, Facebook: BambooLearning, YouTube: bamboolearning.com/youtube
Press Inquiries:
Ian Freed for Bamboo Learning
info@bamboolearning.com
+1 218-4BAMBOO