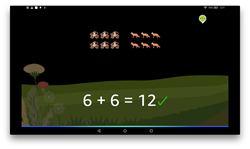 Bamboo Math is available in English across more than 80 countries worldwide including, but not limited to: Australia, Canada, India, Jamaica, the Netherlands, New Zealand, Thailand, the U.K., the U.S. and Zambia.
SEATTLE (PRWEB) November 19, 2018
Following the success of the U.S. release of Bamboo Math in October, Bamboo Learning today expanded distribution of Bamboo Math, a highly-rated, voice-first Alexa Skill, to consumers in more than 80 countries. Any student with an Alexa-enabled device, including Amazon Echo, Echo Dot, and the all-new Echo Plus can use Bamboo Math to practice arithmetic as part of their math education. Students with screen-based Alexa devices such as Echo Show, Echo Spot, Fire tablets, Fire TV, and Fire TV Cube can now take advantage of the new visual Alexa features to view images to help them learn using both auditory and visual elements of the skill.
Bamboo Math is available in English across more than 80 countries worldwide including, but not limited to: Australia, Canada, India, Jamaica, the Netherlands, New Zealand, Thailand, the U.K., the U.S. and Zambia. Students across the globe can join the ranks of those who can now experience Bamboo Math in English, using any Alexa device.
Bamboo Math can be enabled for free by saying "Alexa, enable Bamboo Math" to an Alexa device. Bamboo Math can also be enabled using the Alexa app or via Bamboo Learning's web site at: http://www.bamboolearning.com. A video demo of Bamboo Math is here: http://bit.ly/BambooMath.
"We've had such amazing, positive feedback from U.S. parents and children experiencing, enjoying, and benefiting from Bamboo Math that we wanted to make it available to English speaking math students and enthusiasts in as many countries as possible," said Ian Freed, CEO, Bamboo Learning. "Now, Alexa users in more than 80 countries can learn via our free Alexa Skill, Bamboo Math. We're excited to offer a new way to educate such a diverse set of global customers."
Bamboo Math features a colorful and interactive interface that intersperses numeric problems such as: 3 + 2 =? with word problems like:
Four frogs crossed a bridge. Five times as many foxes followed them. How many foxes crossed the bridge?
For students who have a screen-based Alexa device, Bamboo Math automatically displays images of animals and objects in different environments to enhance students' cognition and keep them entertained while they are learning.
"Research shows that instructional materials which incorporate both auditory and visual content help students learn more quickly while better retaining the material," said Irina Fine, COO and Senior Vice President of Content for Bamboo Learning. "Using the new Alexa Presentation Language and Alexa-enabled screen devices, Bamboo Math is a unique voice-first education tool that combines audio and visual elements to help students deepen their understanding and knowledge of mathematics."
Bamboo Math offers addition, subtraction, multiplication, and division problems, initially starting at Level 1 with simple problems for each arithmetic function. Students can ask for more difficult or easier problems by simply saying "Harder" or "Easier". At the highest levels of multiplication and division, many adults may have difficulty answering the questions without some practice, thus beginning math students have plenty of room to improve their math skills.
Additionally, students automatically gain new levels in Bamboo Math to challenge them appropriately as they master easier exercises. Once a student has mastered all levels in a particular arithmetic function, Bamboo Math promotes the student to the new functions. For example, students mastering addition are automatically promoted to subtraction. Also, students can switch at any time to other arithmetic problems by simply saying "Addition", "Subtraction", "Multiplication", or "Division".
"I introduced my children to Bamboo Math to see how they'd like it," said Sherry Garrison Taylor, mother of three from Brooklyn, New York. "When Bamboo Math asked them a question about tarantulas falling off a trampoline, my children's laughter immediately filled the air, followed by chatter and many, many tries to see what other fun word problems Bamboo Math had in store. I think that Bamboo Math is a must-have for any parent interested in helping their children learn and retain math."
ABOUT BAMBOO LEARNING
Based in Seattle, Bamboo Learning is an education-focused software and services company with a mission to become the most trusted guide to lifelong learning using voice-first devices and software. Bamboo Learning is focused on developing skills for Alexa that enable children and adults to have fun learning and practicing different subjects while listening, viewing pictures, and using their voice. Bamboo Skills, including Bamboo Math and Bamboo Music, automatically get more challenging as children and adults master different levels.
Bamboo's co-founders are Ian Freed, CEO, and Irina Fine, COO and SVP of Content. Ian Freed is a thirty-year veteran of the technology industry, including twelve years at Amazon.com, having served as vice president of Amazon devices, where he led both the Amazon Echo and the Amazon Kindle businesses, and served as technical advisor to Amazon founder and CEO, Jeff Bezos. Irina Fine is a thirty year veteran of elementary education curriculum development and teaching, having worked in public and private sectors of education in New York, Washington DC, London, and Moscow, after receiving her M.Ed. in Curriculum Development and an undergraduate degree in Piano Performance and Music Education. Learn more at: http://www.bamboolearning.com