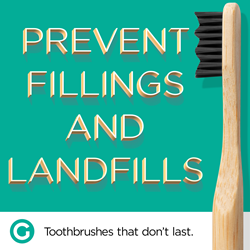 "Goodwell Co.'s bamboo toothbrushes are literally born to die," said Founder and Chief Creative Officer of Undnyable Justin Hooper. "We wanted to show that in the most fun and irreverent way possible, while still driving home the environmental benefits."
PORTLAND, Ore. (PRWEB) October 05, 2020
Sustainable oral care startup Goodwell Co. recently partnered with Portland based agency Undnyable to concept and produce their first brand work for their bamboo toothbrushes through a series of TV, digital films and social posts.
"With over 850 million plastic toothbrushes ending up in landfills every year, pretty much every single plastic toothbrush ever made is still sitting around someplace, waiting a century to decompose," said Patrick Triato, Founder and CEO of Goodwell Co. "We needed a campaign to show that, in comparison to plastic toothbrushes, Goodwell Co. bamboo toothbrushes are made from and give back to the earth, rather than continue to pollute it."
The Undnyable team created a series of three spots, each profiling a Goodwell Co. bamboo toothbrush going about their day, destined to come to an end for the greater good of the planet.
"Goodwell Co.'s bamboo toothbrushes are literally born to die," said Founder and Chief Creative Officer of Undnyable Justin Hooper. "We wanted to show that in the most fun and irreverent way possible, while still driving home the environmental benefits."
The campaign, shot in three locations during COVID and finished with the help of a team spread across three states, will air in broadcast and digital as three :30 TV spots and a series of social posts. In the TV spots, Goodwell Co. bamboo toothbrushes wax poetically about their daily life and their very timely, inevitable demise.
The campaign, available here, was conceived by Undnyable, directed by Justin Hooper and launches on October 1, 2020.
ABOUT UNDNYABLE
Founded by long time agency veteran Justin Hooper, Undnyable is the cure for the common creative agency. Our success model is efficiency and effectiveness through high-impact creativity, shedding the costs and layers of more traditional agencies. We've worked inside brands, inside agencies and production companies and across all creative and production roles. Our capabilities include navigating relationships with AOR and brand partners, bolstering and training currently existing creative and marketing teams as well as creating and producing fully integrated campaigns from start to finish. For more information visit: http://www.undnyable.com.
ABOUT GOODWELL CO.
Goodwell Co. is on a bold mission to pioneer more sustainable and well-designed oral care in a staid billion dollar industry. We are dedicated to carbon neutral processes and practices that help enhance and empower the human ritual of personal care, through innovation, technology and design. By utilizing the latest in recyclable and compostable materials, the user receives oral care essentials that look great, work well, and do good for the planet at the same time. For more information and to purchase Goodwell Co. products, please see http://www.Goodwell.co.
CAMPAIGN CREDITS
Campaign Title: Toothbrushes that don't last
Spot Titles: "Pandas", "Reincarnated" & "The Nomadic Life"
Client: Goodwell Co.
Founder & Chief Executive Officer: Patrick Triato
Director of Design & Development: Charlie McArthur
Director of Operations & Partnerships: Julie Byun-Reinhardt
Agency: Undnyable
Chief Creative Officer/Founder: Justin Hooper
Creative Director: Phil Glist
Executive Producer: Melissa Hooper
Director of Media: Michelle Murphy
Contributor: Dino Spadavecchia
Production Company: Undnyable
Director: Justin Hooper
Audio Post: Lucky Day, Portland
Executive Producers: Chris Vanderloo, Edward Gouttierre
Voice Over Casting: In Both Ears
Seattle Audio Mix & Sound Design: Pure Audio
Los Angeles Audio Mix & Sound Design: Laszlophonics
Los Angeles Mixer/Sound Design: Christian Laszlo