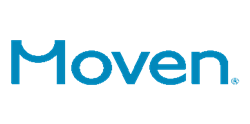 Adding Bambu's capabilities to Moven's mobile-centric experience is well in line with the needs of banks and fintechs to provide consumers with personalized, automatic investing to their product offerings.
NEW YORK and SINGAPORE (PRWEB) July 27, 2021
Bambu, a leading provider of robo-advisory technology solutions, and Moven Enterprise (Moven), the pioneering global digital bank platform, today announced a strategic partnership to help financial institutions deliver the next generation of digital wealth management solutions.
The new joint offering will combine Moven's financial wellness technology with Bambu's leading digital wealth management products and services. The combined contextual, scalable solution will empower retail banking customers, allowing them to expand their spending and savings effort into goal-based, long-term investing.
As consumers increasingly embrace a digital life and mobile experiences, the next big wave in products and services offered by the large financial services firms will focus on providing retail customers a digital "personal CFO," giving a clearer understanding of spending patterns in order to improve saving and investing habits.
While "Robo-investing" has been around for some time, traditional banks and challenger banks are now waking up to the opportunity of leveraging the vast quantity of consumer spending data they hold, to assist their customers in reaching their ultimate long-term saving and investment goals.
"We look forward to working closely with Moven as wealth and digital banking become more seamlessly connected. Moven's long history in digital banking and Bambu's intelligent wealth APIs will provide a perfect platform for any financial institution focused on digital banking and wealth," said Ned Phillips, CEO and Co-founder of Bambu.
"Traditional financial institutions can have a bigger impact on their customer's financial lives and are waking up to the fact that banking is something we do, not somewhere we go," said Bryan Clagett, Chief Revenue Officer of Moven. "Adding Bambu's capabilities to our mobile-centric experience is a logical evolution in our road map and well in line with the needs of banks and fintechs that want to offer ways for consumers to offer personalized, automatic investing to their product offerings."
The team at Bambu works with some of the world's largest banks to design and build digital saving and investment platforms. Their technology delivers goal-based investment journeys via simple and intuitive user experiences incorporating cutting-edge AI and machine learning algorithms.
In 2020, Moven announced a strategic pivot from operating its own challenger bank, to solely focusing on offering its proprietary enterprise software to banks and challengers around the globe. That gives it a unique perspective on building out valuable, contextual digital banking capabilities. Banks, credit unions and fintechs, can leverage the Moven API, SDKs or unique Bank-In-A Box solution, which is a full standalone banking experience.
The partnership is expected to gather interest from financial services providers looking to stay ahead of the game, and ensure financial wellbeing is top of mind for their customers.
About Bambu
Bambu is a leading global digital wealth technology provider for financial institutions. We enable companies to make saving and investing simple and intelligent for their clients. The cloud-based platform is powered by our proprietary algorithms and machine learning tools. The company serves over 20 financial institutions globally. Founded in 2016, Bambu is headquartered in Singapore with a subsidiary in the United Kingdom and the United States and EMEA representatives. For more information, visit https://bambu.co/ and follow us on LinkedIn and Twitter.
About Moven
Moven provides a secure cloud-based software solution to financial institutions, fintechs, and others so that clients can offer mobile, web and voice contextual banking capabilities to customers.
For over a decade, Moven has delivered unique technology solutions to financial institutions and fintechs on five continents. Partners rely on Moven's Financial Wellness® platform to provide real-time customer insights, resulting in reduced attrition, increased engagement, and revenue enhancement opportunities. Moven delivers customized, scalable solutions for each of our partners to best serve the needs of their customers. To learn more, visit moven.com.