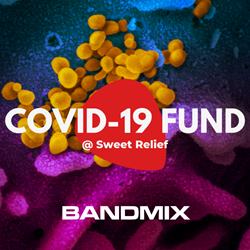 "We're so grateful to Bandmix for their support, they've built an amazing community and we can't thank them enough for their generosity. Bandmix is stepping up to help the music community and we're honored to be their charity partner for this campaign." -Aric Steinberg, EVP Development & Artist Rela
KNOXVILLE, Tenn. (PRWEB) August 06, 2020
Due to massive cancellations at bars and live venues, artists are struggling to find the means to make ends meet during these unprecedented times.
The solution? In part, a recently created COVID-19 relief fund, managed by Sweet Relief, a non-profit dedicated to providing assistance to career musicians and music industry workers struggling while facing illness.
"We're so grateful to Bandmix for their support, they've built an amazing community and we can't thank them enough for their generosity. Bandmix is stepping up to help the music community and we're honored to be their charity partner for this campaign." -Aric Steinberg, EVP Development & Artist Relations.
Who better to help fill the fund than musicians that are all too aware of the challenges the industry faces. Those who are able, of the 1.2 million musicians in the US and Canada, now have the chance to support Sweet Relief and their fellow musicians through BandMix, the largest musician classified online.
"At Bandmix, we care deeply about the musician community. We strive to provide the best network for connecting artists. During these challenging months, we also want to provide some direct assistance to our fellow musicians – Sweet Relief and their mission is a perfect fit." -David Sales, Founder.
How will that work? Any musician using the code SWTRELIEF at checkout earmarks 100% of their purchase to Sweet Relief. Not only will the purchase amount be donated, but Echo Media will match the donation, allowing customers to do twice as much good during this strange time we all find ourselves in.
More about Sweet Relief
Sweet Relief Musicians Fund provides financial assistance to all types of career musicians and music industry professionals who are struggling to make ends meet while facing illness, disability, or age-related problems. In other words, Healing Musicians in Need. We all have received so much out of music, it' s time to give a little back!
Learn more about Sweet Relief here: https://www.sweetrelief.org/
More about BandMix
Formed by musicians in 2003, BandMix is the largest musician classified service online with over 2 million members worldwide. The company estimates BandMix is responsible for matching hundreds of thousands of musicians with each other, continuing its mission to make live music more prominent around the world.
Learn more about BandMix: https://www.bandmix.com
Contact:
Robert Hart
robert@echomedia.net
865-599-0123
Echo Media, Inc.
120 Suburban Road
Suite 201
Knoxville, TN 37923