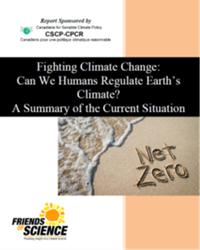 CALGARY, Alberta (PRWEB) September 22, 2021
An open letter to the Bank of Canada challenges the ability of banks and insurance companies to evaluate climate risk or reach NetZero COP26 targets, referring to a new report "Fighting Climate Change: Can We Humans Regulate Earth's Climate?" issued by Friends of Science Society. The report is sponsored by Canadians for Sensible Climate Policy.
As reported by the Daily Mail, Sept. 20, 2021, Britain's current energy and looming food production crisis serves as a warning that COP26 Net Zero goals will destroy modern society.
Media reports about the recent Intergovernmental Panel on Climate Change (IPCC) AR6 climate report were rife with the "Code Red" claims that came from UN Sec-Gen Guterres' press release. "Fighting Climate Change…" report shows the actual science of the IPCC report offers good news. The most catastrophic scenario (RCP 8.5) is no longer seen as humanity's likely future, as explained by US climate policy analyst, Roger Pielke, Jr., meaning the climate emergency is over. Thus, NetZero targets are no longer necessary as "we do have time" for a thoughtful, rational energy transition.
Friends of Science has also issued two videos demonstrating that the recent IPCC Summary for Policymakers (SPM) shows a 'hockey stick' graph that is made up of a jigsaw puzzle of cherry-picked data sets. This contrived method gives the false impression that Modern Temperatures are the 'hottest ever', when this is not the case; the Medieval Warm Period was as warm or warmer, as explained by Sebastien Lunning. The flat 'stick' and the sudden rise of the 'blade' explain the name of this graph, which in investment circles is typically seen as a wild stock promotion like that of Enron or Groupon. The climate hockey stick graph does not appear in the ~4,000-page science report, raising questions about the SPM's intentions. Politicians and media generally rely on the 40-page SPM for the 'short overview' of climate science.
While climate change is real and humans do contribute to it, carbon dioxide is now seen as a nominal influence on global warming. The FUND economic model calculates (see table 4) a negative social cost of carbon dioxide meaning that the Social "Cost" of Carbon is actually beneficial, thus carbon taxes should be eliminated says Friends of Science.
In the open letter, Friends of Science asks the Bank of Canada to stand up to predatory environmental groups (ENGOs) like STAND.Earth (formerly ForestEthics) that are presently harassing Royal Bank, and which have been part of the Tar Sands Campaign green trade war against Canada for decades.
STAND.Earth attacks the Royal Bank for financing fossil fuels, falsely claiming this causes events like the Lytton wildfire catastrophe, summer drought, and high temperatures.
The evidence and analysis of Belgian researchers Brigitte Lanoie and Jean van Vliet shows that atmospheric pressures and the foehn winds in the Lytton region accounted for those the unusually high temperatures.
Likewise, Friends of Science comprehensive response to a SLATE journalist in 2020, explains in detail a number of issues in wildfire management. The amount of fuel load, not temperature is the key factor.
FireSmart communities like Logan Lake, which successfully battled British Columbia wildfires and won, show that adaptation and constructive mitigation make far more practical and economic sense than "Fighting Climate Change".
Friends of Science Society also announces three free upcoming online events.
Marijn Poels' latest independent documentary "Headwind '21", featuring former green banker Alex Pohl taking on the climate industrial complex will premiere on YouTube September 23, 2021.
"Politicians Can't Stop Climate Change" is the theme of Friends of Science Society's 18th Annual Event which will feature Dr. Guus Berkhout, president of CLINTEL, on October 2, 2021 at 10am MDT and Marc Morano, author of "Green Fraud: Why the Green New Deal is Even Worse Than You Think" on October 6, 2021 at 7pm MDT.
About
Friends of Science Society is an independent group of earth, atmospheric and solar scientists, engineers, and citizens that is celebrating its 19th year of offering climate science insights. After a thorough review of a broad spectrum of literature on climate change, Friends of Science Society has concluded that the sun is the main driver of climate change, not carbon dioxide (CO2).
Friends of Science Society
P.O. Box 23167, Mission P.O.
Calgary, Alberta
Canada T2S 3B1
Toll-free Telephone: 1-888-789-9597
Web: friendsofscience.org
E-mail: contact(at)friendsofscience(dot)org
Web: climatechange101.ca