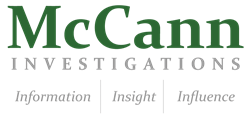 Austin, TX (PRWEB) May 02, 2014
McCann Investigators, a firm that offers high-quality private investigations and digital security services throughout the state of Texas, announced that its Austin branch provides thorough bankruptcy crime investigations with the assistance of high-tech methods and tools.
McCann's investigators handle cases relating to multiple or invalid filings and the concealment of assets during a bankruptcy filing. They must perform thorough research to find evidence of guilt. The Austin investigators from McCann are greatly experienced in this practice area, and the technologies and methods that they use to extract evidence give them an edge in their work.
"It's extremely important to use all of the technology available to uncover evidence for bankruptcy crime cases," said Daniel Weiss, Managing Partner at McCann Investigations. "Much of the evidence left behind in these cases is located in digital formats."
To find the evidence in those digital formats, McCann's investigators engage in a comprehensive digital forensics investigation, using high-tech methods to comb through computers and mobile devices for information that could be of assistance in the case. Evidence is often found in documents, texts, photos, apps, emails and more.
Some evidence can be found beyond the digital realm, which means that McCann's Austin investigators must also engage in surveillance of the target. Covert surveillance tools and remote viewing technologies provided by McCann assist in the investigations and speed up the process.
"We are dedicated to helping our clients find the evidence they need to prove guilt on the part of the investigation target as quickly as possible so they can move past the case," said Weiss. "Let us assist you in your next bankruptcy crime investigation."
For more information about the services provided by McCann Investigations in the Austin area, visit the company's website at http://www.mccanninvestigations.com and follow the company on Twitter at @mccangi.
About McCann Investigations
McCann Investigations is a Texas-based private investigations practice focused on comprehensive investigations incorporating digital forensics, surveillance, undercover work and background checks for clients in various case types. Service areas include intellectual property theft, non-compete enforcement, fraud, embezzlement and family law. McCann Investigators are experts in the latest computer forensics tools and are licensed with the state of Texas. McCann examiners have provided expert testimony and reporting in hundreds of cases across the state.